Hours of Operation: Monday to Friday from Noon – 3pm.
For other times, please email librarymcx@torontomu.ca or call 416-979-5000 ext. 554943 to arrange an appointment at least 2 days in advance.
Location: Main floor of the University Library, Room LIB272B
The Material ConneXion room in the University Library is a place to explore materials representing current trends in design, materials research and productions from all over the world. Patrons and researchers can discover interesting materials and related technologies that can lead to new sources of inspiration and creativity.
Material ConneXion (MCX) is a unique and eclectic collection that offers students, researchers and faculty access to the latest fabrication and creation materials and processes. The collection is periodically updated with new materials to best align with the needs of courses, researchers and students.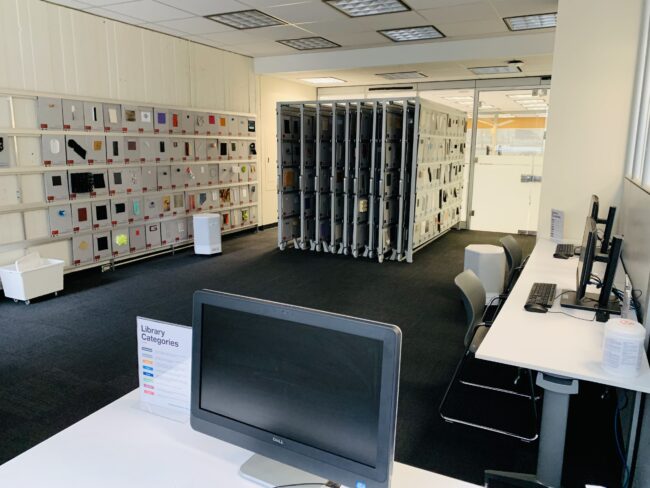 Every material sample is linked to the Material ConneXion database which contains detailed descriptions and information, including contact details of manufacturers and distributors. Two computer workstations are available for students to access the Library's research databases and resources. A large group table with four seats is located in the space for students and researchers to work with and physically handle samples of materials for inspiration, material ideas and projects.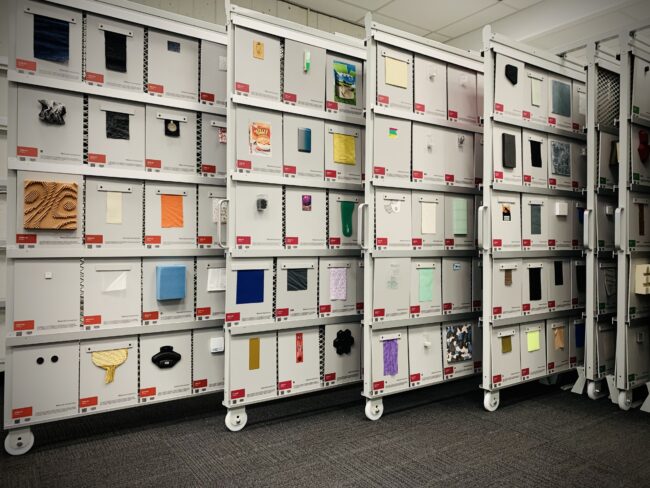 The Material ConneXion room is open to all students, faculty, staff and alumni of Toronto Metropolitan University, and to University partners. Materials are available for consultation on the main floor of the Library. The University Library's staff are available to provide information and support for searching and locating material samples.
Orientation tours are available for classes. Please email librarymcx@torontomu.ca to inquire about making a booking.
Check the Material ConneXion Research Guide, contact your subject librarian or email librarymcx@torontomu.ca for more information