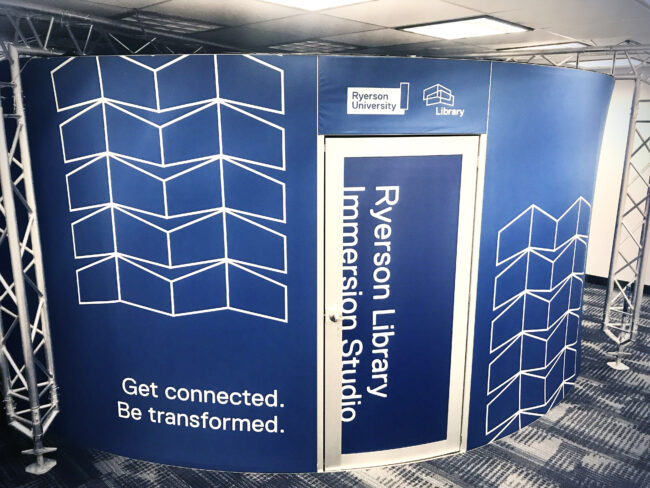 Overview
The Immersion Studio is a resource located in the TMU Library for faculty and students to create research and teaching projects using collaborative virtual reality (VR) experiences and immersive media. The space is a full 360° projection cylinder that is 6 meters in diameter and 2.3 meters tall that utilizes 5 ceiling mounted projectors to stitch images together to create a seamless 360 image. Because the Immersion Studio is an open space that does not require the use of any peripherals or headgear to interact with the content, it is an attractive alternative for faculty and students wishing to create and experience 360° and VR content. The Immersion Studio can accommodate people who are either standing or seated, and can accommodate up to 10 people. As of April 2022, we are limiting capacity to 6 people due to COVID-19 restrictions.
Equipment Specs
Immersion Studio
Full 360° projection
6 meters in diameter
Wireless control via Parsec application

Maximum occupancy: 15

Image aspect ratio = 8:1

Curved, lockable door to complete 360º fabric screen

Dartex blackout cap with integrated HVAC ducts for AC Unit
AV System
5 x full HD (1920 X 1080) 3500 lumen ceiling mounted projectors

7.1 surround sound speaker system with 5 JBL speakers and 1 subwoofer

Windows 10 PC media server with 2 NVIDIA Quadro RTX-5000 Graphics Cards

Apple iPad (8th Generation) for wireless control of 360 images and video
2 HTC Vive Base Stations (1.0) + 2 Vive Controllers & Steam Controller for VR and motion controls
Microsoft Kinect V2 for hand and body tracking
Immersion Studio Layout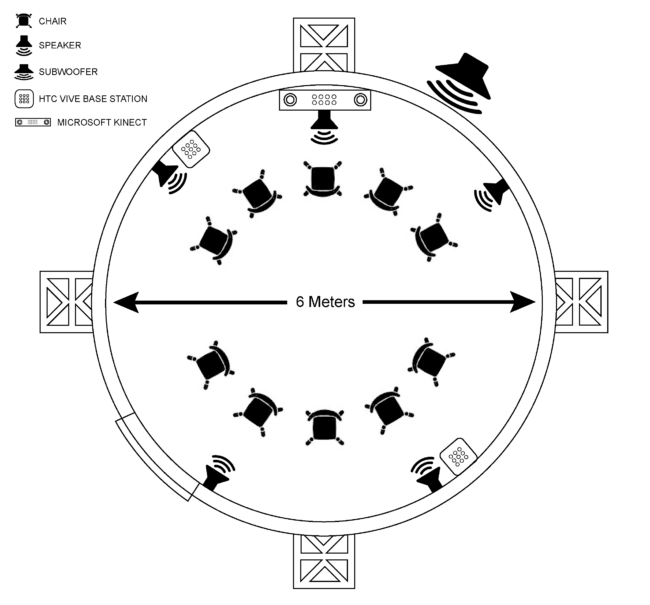 For more information on the layout of the Immersion Studio, please refer to the graphic above. Please note that chairs are optional and can be added if requested.
Request a Demo or Consultation
If you are interested in booking a demo of the Immersion Studio, or would like to discuss how the Immersion Studio could be used for your project, please email Michael Carter-Arlt at michael.carterarlt@torontomu.ca.