Prize Winners
Thank you to all who completed the LibQUAL+ survey and congratulations to our three student winners of $50 Starbucks gift cards.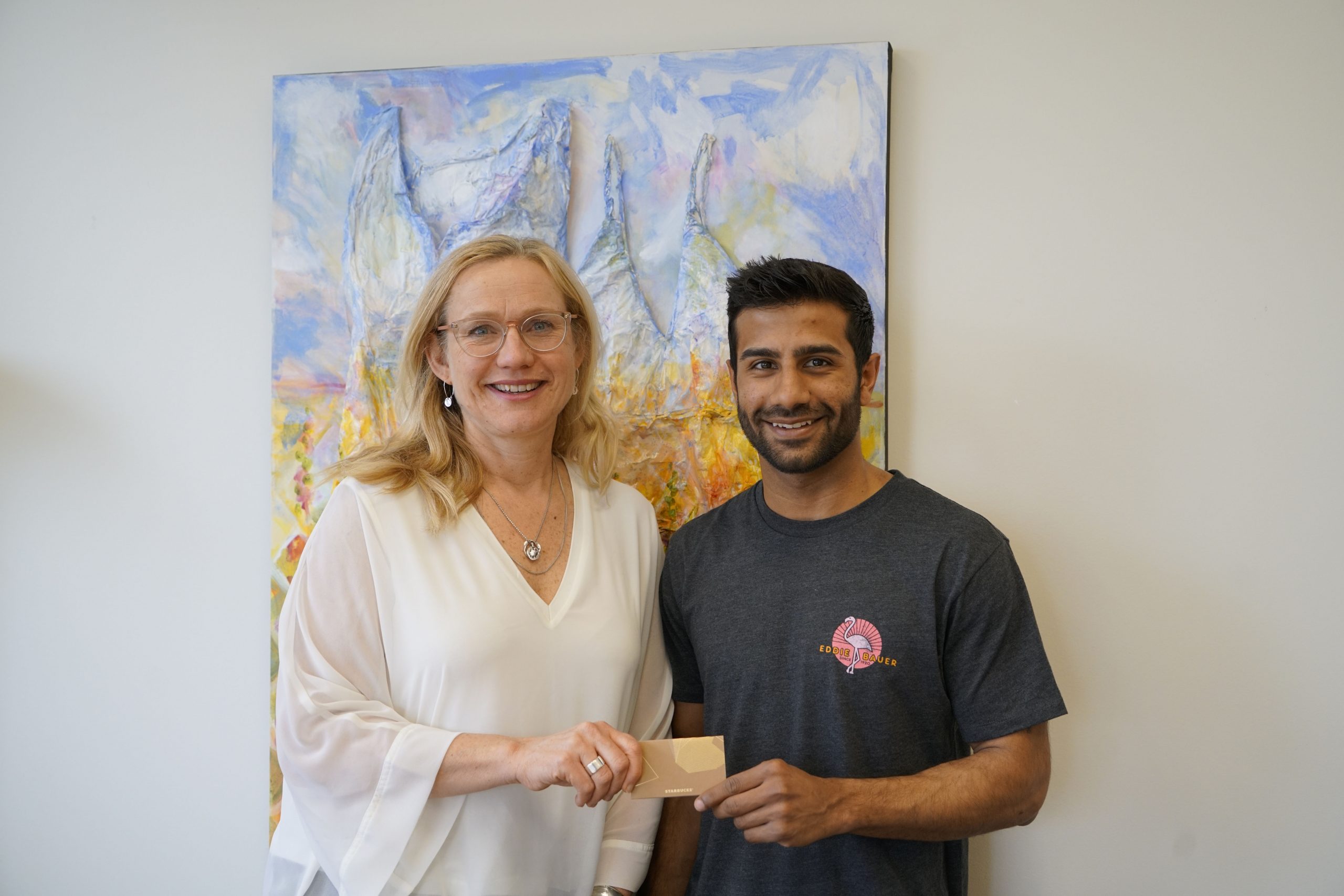 Response Rate and Representativeness
A sample of 5,000 undergraduate students, nearly all graduate students, and all faculty were invited to participate in the LibQUAL+ survey through email. We received 771 valid surveys.
Our response rate was 9.7% for students, slightly decreased from the last survey year of 2016. The responses were representative of the Ryerson community, with proportionate responses from undergraduate, graduate, and faculty members and responses by discipline of study. This year's survey results saw more responses from TRSM which has historically been underrepresented in the LibQUAL+ survey, and from faculty, and we appreciate the engagement.
Caption: This line chart shows a comparison of the population and number of respondents by faculty of study. The population and number of respondents are closely aligned for each faculty, with a slight underrepresentation for TRSM and FCAD.
Overall Scores
The LibQUAL+ survey asks patrons about their minimum, perceived, and desired level of service. The perceived level of service exceeds minimum expectations for each set of questions related to three main categories of survey questions (Affect of Service, Information Control, and Library as Place), indicating that the Library is meeting the minimum expectations of patrons for all three.
Caption: This box and whisker plot chart shows the overall results for the LibQUAL+ 2019 survey for the three categories of Affect of Service, Information Control, and Library as Place. 
Library as Place
Library as Place questions ask about the Library environment. It has the lowest scores of the three dimensions, and this has been the case for all five years that we have run LibQUAL+ surveys. Diving into these results, undergraduates show the most desire for improved space, primarily more quiet space, more comfortable and inviting spaces, and more spaces that inspire study and learning. Comments from the survey mentioned everyday issues with space, including uncomfortable furniture. 
How we're responding to these results: We know that improving Library space is a priority, especially as the student population continues to grow. Your feedback helps us prioritize how to enhance our spaces, and as we plan it is helpful to know that the need for quiet, comfortable, and inspiring spaces is important. In response to comments about uncomfortable furniture, we also recently purchased 150 new chairs in the Information Learning Commons.
Information Control
Information Control questions ask about the Library collections and access issues. Faculty and graduate students told us that they want a high level of service from the library for Information Control. Specifically, they told us that they desire more electronic journal access. Undergraduate students told us that they want more access to textbooks. We also heard mixed feedback about other resources: some want more print resources, some more electronic, and others aren't sure what we have and would like to be able to navigate the website with more ease.  
How we're responding to these results: We're working with the University administration to reinvest in the Library budget, including additional funds for information resources of all formats and types. We're continually working on enabling access to the resources you need. We appreciate your comments that we are continuing to find new ways to improve and expand access to research resources. To keep on top of new collections as well as existing scholarly resources check out our research guides and make use of the invaluable service of interlibrary loan. To find out more please contact your liaison librarian. 
We know from other studies and surveys that access to textbooks is an equity issue for students. This fall, we launched a textbook reserve pilot project, which provides copies of required textbooks for most courses. The response has been very positive and we are pleased it is making a difference for student success.
Affect of Service
Affect of Service questions ask about how we're doing for service. We received the highest scores for this dimension and very kind comments from patrons. Students and faculty told us that you love the Library, that you rely on us, and that the support you receive for research, teaching, and borrowing materials is very high. Faculty rated the Library highly on several questions, including "Dependability in handling users' service problems," "Willingness to help users," and "Teaching me how to access, evaluate, and use information." One area for improvement is for us to learn to better understand the needs of our users.
How we're responding to these results: We're going to continue to focus on delivering great service. That includes holding regular staff training and conducting ongoing program evaluation. We want to learn more from you so that we can better understand your needs, which includes regular student feedback townhalls, and a range of ongoing assessment and user experience work. 
Ways to interact with us:
Students: Learn about our services and research help. Drop in to say hi, chat with us online, or send us an email. 
Faculty: Get to know your liaison librarian. We teach  research skills and digital/information literacy and can advise on data, research and other teaching and SRC related needs as well as collaborate to help advance your SRC — from inception through to dissemination and translation.