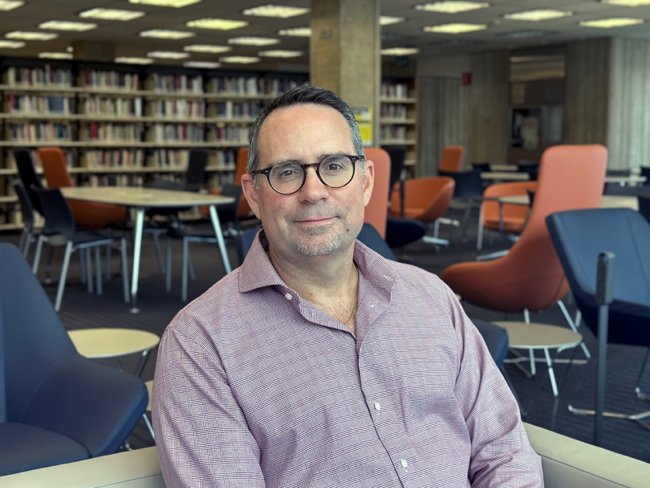 Mark brings more than 24 years of experience in academic libraries to his role as chief librarian. He joined TMU in 2023, after serving for seven years as university librarian at Brock University. As a member of Brock's senior administrative council, Mark developed a new strategic plan and master space plan for the library, saw the opening of a new makerspace and provided leadership for the establishment of an open access policy. His work to strengthen the library acquisitions budget resulted in a significant rise in the library's performance in the Maclean's Magazine rankings of comprehensive universities in Canada.
Prior to Brock, Mark spent 17 years at York University, including eight years as associate university librarian for information services. An active member of the board of directors for the Canadian Research Knowledge Network, Mark also chairs the Canadian Association of Research Libraries Impact Framework Working Group and is a longtime member of the Ontario Council of University Libraries and Canadian Association of Research Libraries directors.
Mark earned his bachelor of arts from the University of Toronto, followed by a master of arts in philosophy from McMaster University, and a master of information studies from the University of Toronto. He attended the Harvard Leadership Institute for Academic Librarians in 2009 before participating in the prestigious Association of Research Libraries Leadership Fellows Program. His professional interests include library space design, library impact frameworks, the institutional strategic alignment of libraries and leadership development.