Explore the vibrant 2SLGBTQ+ history at TMU! For LGBT History Month we are highlighting key moments and achievements of the 2SLGBTQ+ communities at TMU and more broadly in Toronto.
The Wilde '82 History Conference was one of the first North American gatherings dedicated to the recovery of LGBT histories. It was held on TMU campus on June 30-July 3 1982. The name of the conference was in commemoration of the 100th anniversary of Oscar Wilde's famous North American Tour.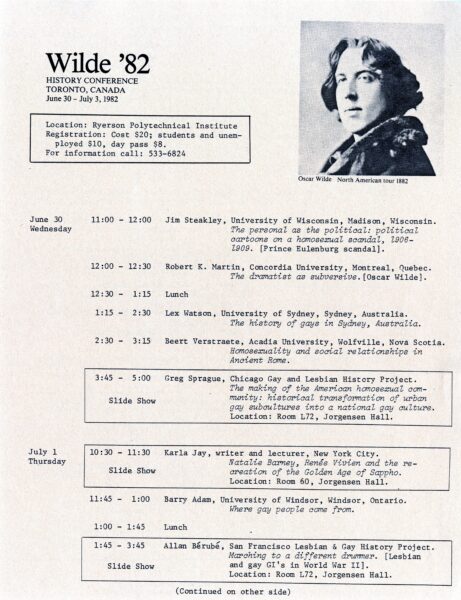 In 1986, TMU started offering the first LGBT course called "New Perspectives on Gay and Lesbian Realities." The course was aimed at members of the LGBT community, allies and families.
During the 1980s and 1990s, the TMU theatre hosted the Lesbian and Gay Community Appeal's annual fundraiser called Fruit Cocktail. The show included vaudeville-style acts with cast members dressed in fruit costumes!
In 1992, TMU's campus community radio station CLKN recorded a program at the Pride parade. Listen CKLN's Queer Radio pride report.
Did you know the TMU Libraries has copies of the Body Politic, a Canadian monthly queer magazine published from 1971 to 1987? It was one of Canada's first significant gay publications, and played a prominent role in the development of the LGBT community in Canada. In 1973, the newspaper also spurred the creation of the ArQuives in Toronto in 1973, one of the largest independent 2SLGBTQ+ archives in the world and the only archive in Canada with a mandate to collect at a national level.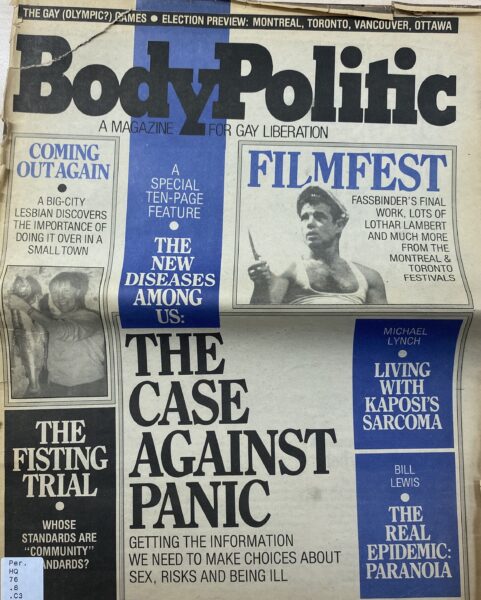 Throughout the month of October, visit our LGBT History Month display on the 4th floor of the Library building to view more material from Archives & Special Collections related to TMU queer history, or join us for the Pink Libraries Tour on October 24th and 26th.