View exhibitions in the Archives & Special Collections reading room and hallway exhibit cases. Learn what's happening in the Library now, or find out more about using our materials in the classroom.
Currently on Display
Archives and Special Collections Display Cases
June 26, 2019 – September 2, 2019
Ryerson Archives is known for having historical papers and photographs – but did you know that they also have a large collection of artifacts and architectural remnants in all shapes and sizes? Special Collections is known for its photography based collections – but did you know that they also have Soviet propaganda, comic books and toys? Tying into our "Thinking Inside the Box" theme – this summer exhibit highlights a few of the lesser known artifacts we house in our vault
.
Archives and Special Collections Reading Room
May 1, 2019 – October 31, 2019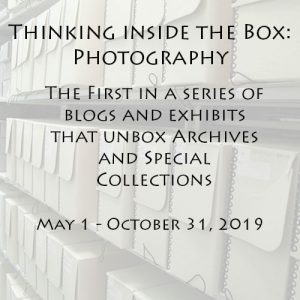 Ryerson Library's Special Collections was founded in 2005 with the donation of the Kodak Canada Corporate Archive and Heritage Collection. Since this time, donations of photography and film-related materials have grown Special Collections exponentially, making up a major part of its holdings. Books, periodicals, photography and developing equipment are just some of the items we house. The camera collection boasts almost 800 cameras ranging in dates from the late 1860s to the early 2000s and include examples of miniature, instamatic, panoramic, and enlarging models. This exhibit highlights some of this fantastic collection – bringing them out of their boxes and putting them on display.