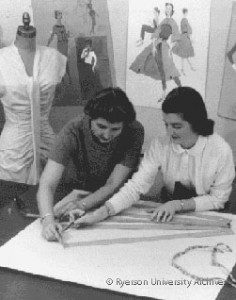 Can I access Archives & Special Collections During the COVID-19 pandemic (Summer 2023)
We are open by appointment on Monday to Friday from 9 a.m. to 5 p.m.

Please complete our form to schedule an appointment.
Include the Call Numbers of the books or the Reference Codes of the material you would like to access, you can also include the URL to Library Books or Archives and Special Collections Materials.
We will confirm your appointment and provide you with information on protocols to access the library. Please submit your appointment requests at least 2 days in advance.
To gain access to the Library Building, patrons must have their OneCard. External researchers will be met at entrance by Archives and Special Collections staff.
We are also able to provide services virtually, if possible and preferred, please let us know.
Who can access Archives & Special Collections?
The Toronto Metropolitan University Archives & Special Collections (A&SC) is open to all of the University's constituents including students, staff, faculty and alumni. It is also available to external researchers and scholars as well as to members of the general public.
If you require accommodations to access material at A&SC, please email asc@torontomu.ca or phone 416-979-5000, ext. 557027.
How can you help me with my research?
A&SC staff are here to facilitate research and access to collections for the broader University community. Researchers are strongly encouraged to fill out this form in advance of their first visit to the archives in order to schedule an appointment.
When making an appointment, please include the reference number of the item, or collection or call number of the books you would like to consult.
Books and periodicals can be searched in advance of your visit through the Toronto Metropolitan University Library catalogue. Any of the books or periodicals from the catalogue that are located in the Archives & Special Collections reading room will be noted as such in the 'Location' area in the record.
All other A&SC materials can be searched in advance of your visit through the A&SC database.
What if I need more help?
Please feel free to make an appointment for more in-depth research assistance tailored to your specific research interests by contacting asc@torontomu.ca. The A&SC staff will contact you to confirm your appointment. We will enable you to engage in efficient and productive research by orienting you to the available materials and search tools that are relevant to your research interests.
Is there anything you can't do?
Unfortunately, we can't conduct your research for you. We're happy to help you locate and access records; navigate our database, catalogue, and paper-based finding aids; digitize material for educational use; access existing digitized material; and refer you to other collections items that are related to your topic.
We can't do things like conduct preliminary searches; research, locate, and digitize the results of subject-based search requests sent in remotely; read through large files in search of items relevant to your research; or clear image reproduction rights with third-party permissions holders.
Can I use images from the collection?
You can request high quality digital images of collections objects and we are happy to make these available for uses that fall under Toronto Metropolitan University's Fair Dealing guidelines. You may be asked to sign an Image Use Agreement prior to the images being released and images must be accompanied by a credit line citing the appropriate repository in any case where material is reproduced.
The records held by the Toronto Metropolitan University Archives are subject to the Freedom of Information and Protection of Privacy Act. Access to certain records may be restricted for specified periods of time or be subject to donor agreements. Please inquire about specific collections by emailing asc@torontomu.ca.
Please note that unauthorized reproduction of images is prohibited.
Is there a cost for reproductions?
Toronto Metropolitan University Faculty, Staff, and Students are not charged for reproductions.
For external requests there is a $25 fee for a photograph that is already digitized and $50 fee for an item that requires digitization. The cost for textual records digitization is $5 for the first page of a document and $1 for each additional page.
What can I bring to A&SC?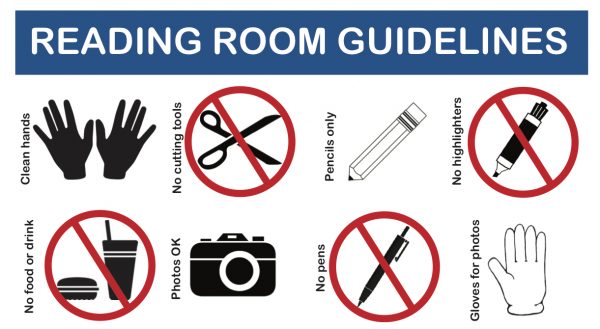 How should I cite A&SC materials?
The citation will depend on the style requirement for the course or assignment. At TMU the two most common citation styles used are APA and MLA. Please check with your instructor if you are uncertain about the style that you should be using.
For more information on citing archival material, please see these resources:
Citing Archival Material – University of British Columbia
Citing Archival Sources (Purdue University Libraries)
A&SC images must be accompanied by a credit line citing the appropriate repository in any case where material is reproduced.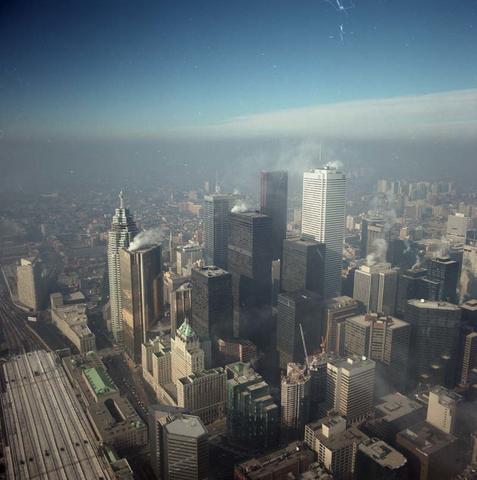 Where are you located?
We are located on the 4th floor of the Toronto Metropolitan University Library building (LIB), across from the elevators.
The LIB building (350 Victoria Street) is on the north side of Gould street, between O'Keefe Lane and Victoria Street. Enter the Library on the 2nd floor of the building and take the elevator or the stairs to the 4th floor.