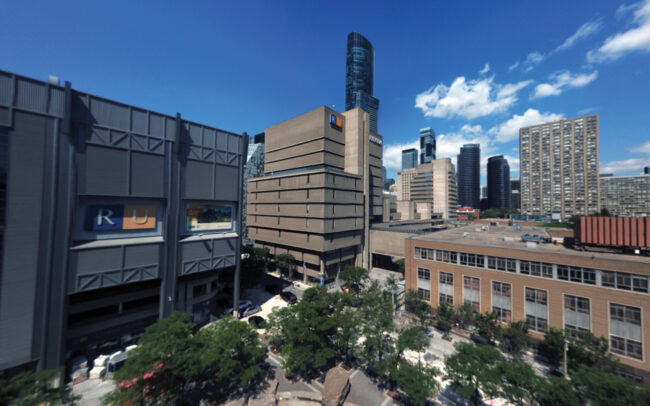 The start of the fall term once again looks different than previous years as we begin to gradually and safely open some onsite access to resources and activities. The University Library, will be phasing in onsite services, transitioning from offering primarily remote services and programs throughout the past year, to delivering Library services and programming in new, expanded, or revised ways to best meet multimodal delivery. We will continue to offer virtual services, as well as begin to open access to the Library building, onsite resources, study spaces, print collections and experiential learning and research labs. 
Entering the Library
Health and safety continues to be a priority as we phase in onsite access. Students, faculty and staff can enter the Library from the lower ground entrance of the Library building, located at 350 Victoria St. on the northwest corner of Gould Street and Nelson Mandela Walk. To gain access, patrons are required to wear a mask at all times, have their OneCard and their Health Screening Pass through the RyersonSafe App.
Students, faculty and staff are now required by the university to provide proof of vaccination prior to coming to campus. Please visit the university website for details. 
At this time, access to the Library remains limited to faculty, students and staff. 
During the last year, the Library has been working hard to improve academic learning spaces for our community, including: renovating some new group study rooms, adding new furniture to meet unique needs and study styles, and other improvements. These new areas and improvements will open in a phased in approach as they are completed.
The Library will continue to offer students multiple desktop computers, labs, study spaces, loan laptops, as well as provide strong wifi onsite.
Print collection 
Students, faculty and staff can continue to request print items for pick up. 
In addition to being able to request print items students will once again, where possible, have access to print textbooks available on short-term loan for the majority of undergraduate courses. Digital course readings will also be available to students 24/7, on campus and off, in their D2L courses.
Interlibrary Loans
Interlibrary loan requests will start being processed as of September 7, 2021
Research help
Research help will be available virtually through the Library's Ask A Librarian chat service and via one-on-one online appointments. 
First-year experience
Subject librarians participate in the Library First-Year Experience program and reach out to new students through their programs and departments.
Virtual research and digital skills workshops
The Library will continue offering a number of virtual research and digital skills workshops. Students can learn how to navigate the Library's electronic resources, conduct literature and systematic reviews, search for patents, or use Photoshop, Illustrator and other Adobe Creative Suite products. For more information including dates and times, visit Library workshops.
Library's Issac Olowolafe Jr. Digital Media Experience Lab (DME)
Students will be able to book appointments at the Library's DME, which offers experiential learning opportunities and workshops to all students from the time they enter Ryerson to when they finish their studies, including: access to and instruction on using 3D printers, media creation tools, Adobe Creative Suite and more.
Library Collaboratory
The Library Collaboratory will be open to faculty and graduate student members to book research reappointments. The Collaboratory is an interdisciplinary research space equipped with laser printers, 3D printers, prototyping tools and more. Learn more about Library Collaboratory membership.
Geospatial, Map and Data Centre
The Geospatial, Map and Data Centre (GMDC) will be open providing students, faculty and researchers access to GIS software, statistics and data resources, and paper map collections. Research consultations, workshops and instruction sessions related to GIS and data resources will continue to be delivered virtually and can be requested via the GMDC.
Archives and Special Collections
The Archives and Special Collections will be open by appointment providing students, faculty and staff access to the Library's special collections including photography, film and cultural history object collections, and University archival collections.
Visit the Library online to learn more about what's happening this fall