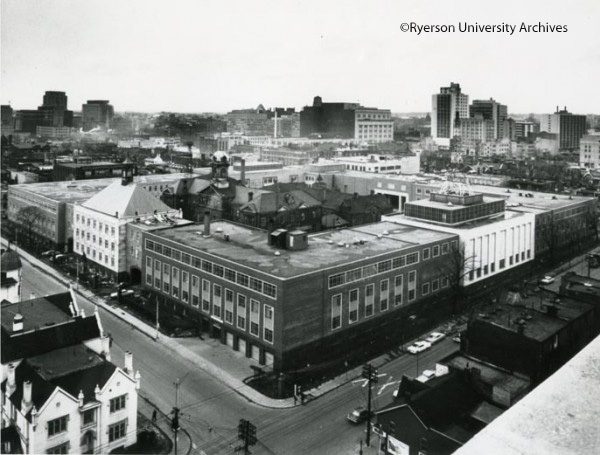 The Archives serves as the institutional memory of the Toronto Metropolitan (formerly Ryerson) community by appraising, preserving, and providing access to a broad range of primary source materials. The collections housed in the Archives provide an administrative, academic, fiscal, legal, social, and cultural record of Toronto Metropolitan University from its inception up to the present day.
Services & Facilities
Research assistance and support
Reading room
Computerized finding aids
Rotating Displays
Mandate
Founded in 1971 on a recommendation by the Smyth Commission on Ryerson Polytechnical Institute's governance and organization, the University Archives mandate is to acquire, preserve and make available through a comprehensive archival collection, records essential to the understanding of the University's purposes and operation or having other historical or archival value.
Within its mandate, the University Archives acts as a resource facility which documents the history of Toronto Metropolitan University (1948 to the present) and its antecedent institutions at St. James Square, known as the cradle of education in the province of Ontario.
These institutions include primarily the Toronto Normal School (1852-1941), the R.C.A.F. No. 6 Initial Training Centre and Dominion-Provincial War Emergency Training Program (1941-1945) and the Toronto Training and Re-establishment Institute (1945-1948).
The Archives also maintains a small collection of records and information on Egerton Ryerson and the Ryerson Family.
Please note that unauthorized reproduction of images contained on the Toronto Metropolitan University Archives and Special Collections web site, without express written consent (asc@torontomu.ca), is strictly prohibited. If permission is granted, credit shall be given to the Toronto Metropolitan University Archives in any case where material is reproduced. More information on copyright is available here

Information regarding donations to the University Archives can be found here
Holdings
The records in the Toronto Metropolitan University Archives collection date from 1783, with the majority of records dating from 1948 to the present. As a reflection of the Archives mandate and collecting policy, the primary documentary focus of the records in the collection is on the University and its predecessor institutions. The archives' holdings include:
Records of senior-level, administrative and academic departments
Minutes and agenda of various university committees, including the Board of Governors and Academic Council
Financial records, including statements and budget and audit records
Human resources records
Records of student, faculty, staff and alumni organizations
Annual reports
Contracts, agreements and other legal documents
Policy and procedure manuals
Publications
Student, staff and faculty newspapers and newsletters
Manuals and handbooks
Course calendars
Yearbooks
Photographs, including prints, negatives, transparencies and digital images
Motion picture films and video tapes
Sound recordings
Cartographic and architectural records
Paintings, drawings and prints
Artifacts
Electronic records
Speeches and addresses
Subject files, including primarily secondary source material on TMU-related topics
Private papers and manuscripts
Published books and articles by members of the TMU community (The Ryerson Authors Collection)
We love to share our passion for primary sources! See Learning and Teaching with Archives & Special Collections for more information about class instruction.