We're joining the Archives of Ontario in their #ArchivesAtoZ month-long campaign. The aim is to increase the public's awareness of archives and their collections. We'll be sharing four blog posts throughout the month showcasing items and collections from our holdings or archival concepts related to each letter of the alphabet.
March 1: A to F
March 8: G to M
March 15: N to S
March 22: T to Z
For the past 73 years, Toronto Metropolitan University Media and Ryerson Student Media outlets have been telling the University's stories, and stories about the larger community to which the school belongs. Before the age of social media and online streaming – Ryerson got its stories out there in printed newspapers, newsletters, and magazines. Archives and Special Collections houses the archives for many of the campus media publications including Ryerson's student newspapers – The Ryersonian and The Eyeopener, and University publications like the Forum Newsletter and Ryerson Magazine. We also have a robust collection of publications created by different student groups, faculties, and programs. You can read more about Ryerson's news publications in the blog "All the news that's fit to print"
Octagonal Houses of Maine
Archive and Special Collections houses a wide selection Artists books in its stacks. The smallest of these is "The Octagonal Houses of Maine" by Carol-Lynn Rössel Waugh and illustrated by Patrick H. Higgins. It measures just 2 cm by 2.5 cm, but the text and images are fully legible.
The Peter Di Gangi Papers contain records on historical, legal and cultural research related to Indigenous governance in Canada. Di Gangi has been working with Indigenous communities across Canada for ever 35 years and has worked extensively with Anishnaabe communities on the North Shore of Lake Huron and Manitoulin Island, and with the Algonquin communities of the Ottawa Valley. The collection includes published and unpublished materials, created by Di Gangi and his research firm Sicani Research & Advisory Services, such as policy papers on Indigenous laws, government reports and statistics and research documents prepared for the Royal Commission on Aboriginal Peoples and Assembly of First Nations.
Hidden from view in the Centre of Ryerson's campus is the Kerr Hall Quadrangle or Quad. Surrounded on four sides by Howard Kerr Hall, the quadrangle is a welcome green space on campus, and a favourite lunch and relaxation spot for the Ryerson students and staff. When originally constructed, the quad was home to campus parking around the perimeter with a fountain in the centre. Spring graduates would convocate through the door of the Toronto Normal School building facade. Now the quad features the Ryerson Athletic Centre below its grass covered centre and is bordered by gardens and mature trees. The photograph of convocation is just one of thousands of photographs that we house in Archives and Special Collections that show the evolution of the Quad and Ryerson's campus as a whole.
Ram or the Rams is the name of Toronto Metropolitan University's Varsity Athletic teams. Our textile collection contains numerous hockey, volleyball, soccer, and basketball uniforms that were donated to us as the materials and cuts of the uniforms changed over the years. We also have a programs, photographs, team rosters, and a wide variety of other memorabilia tied to Ryerson's 73 year history of Athletics and Recreation. Want to know more? Read our blog "Ryerson 7025 – Athletics and Intramurals".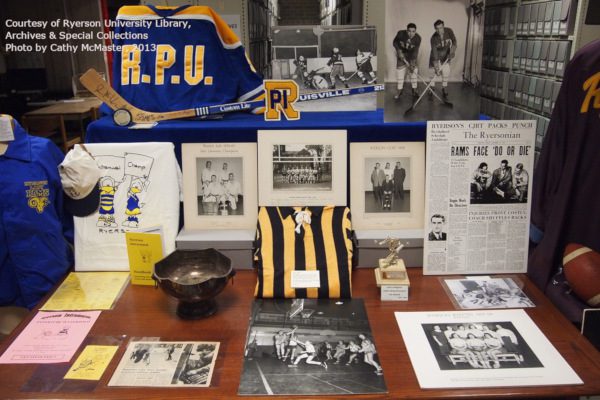 Stereographs, also known as stereocards or stereoscopic photographs, are an early form of 3D photographs. The two almost identical images mounted on a rectangular card or piece of glass create the illusion of a three-dimensional photograph when used with a stereoscope viewer (see our next post under V for more information on the viewing devices). Our Bass Stereoscopic Photography Collection contains approximatively 8000 stereoscopic photographs depicting various geographic locations, activities and people. Stereographs were created in the early 1850s, and gained popularity when a stereoscopic viewer was displayed at the London International Exhibition (Crystal Palace) in 1851. A decade later, stereocards were mass-produced and widely distributed by publishers and amateur photographers. They were often sold as boxsets on a certain topic, for entertainment or educational purposes, or as a souvenir while visiting a tourist destination.
Next week, in our final March post, we'll highlight items and archival concepts for the letters T to Z!