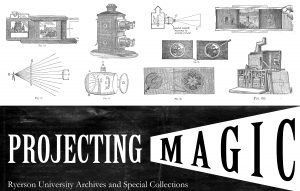 Have you ever wondered what people watched at home and in theaters before Netflix and the invention of cinema? This exhibition hopes to demystify one aspect of pre-cinematic technology: magic lantern projectors. These early optical devices used oil or gas light sources to project glass slide images onto a screen. Some say magic lanterns are the precursors to Powerpoint presentations!
The first report of the construction of a magic lantern is generally considered to be referring to the Dutch scientist Christiaan Huygens in 1659. It was inspired by precedent optical inventions such as the camera obscura (which was a room containing a pinhole that a scene was projected through onto the opposite wall), and magic shadow shows which used puppets and hands to recount stories.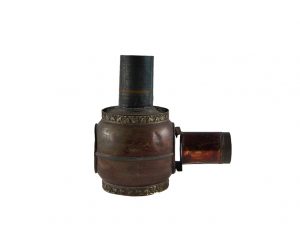 By the eighteenth-century, the magic lantern was "openly displayed" for public events by traveling lanternists in public venues. Several showmen used the lanterns to produce horror shows, popularly known as "Phantasmagoria" shows. These presentations projected ghostly images onto smoke screens to create the effect of conjuring evil spirits.
Initially lanterns were illuminated by candlelight or oil lamps, but this did not produce enough light to project a clear image from afar. Lanternists began to use limestone in the early 1800s, as they could successfully be used for projection in large theaters. Limelight is produced through the combustion of hydrogen and oxygen directed at a piece of lime (calcium oxide). This method was quite complex and potentially hazardous, since at the time putting gas under pressure was achieved by sandwiching rubber bags filled with gas between two pieces of wood.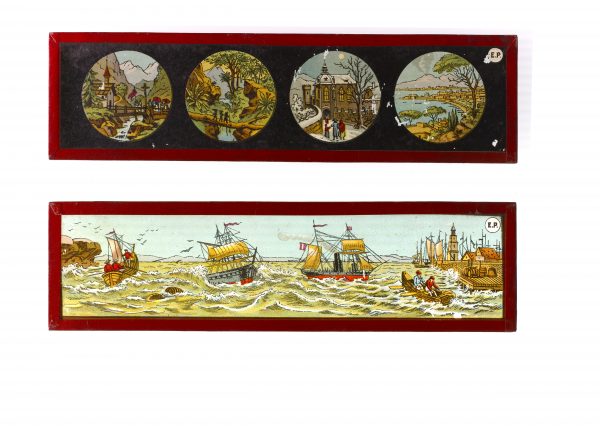 By the mid 1800s, a huge variety of magic lanterns became available to the professional and home market. On display in the exhibit, we have lanterns with varying functions, from a decorative circular lantern meant to be placed above an oil lamp at home, to a large biunial (or double lens) lantern that could be used in large halls for theatrical presentation or educational lectures.
Slides also varied in their typology, becoming more detailed and elaborate with each new iteration. Initially they were rectangular strips of glass with hand painted imagery and a mahogany wood border. When separate wooden slide carriers were developed, the wooden border attached to the wood slides themselves was removed from the design. Then, the illustrations featured on the glass portion went from being hand-painted to mechanically produced, and by the mid 1800s photographic slides came into production as well.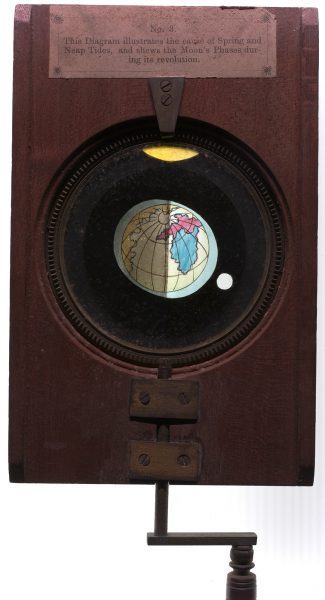 Magic lantern projection also demonstrates the aspiration to present not only static, but moving images to an audience. Lanternists would use panoramic slides, which when passed in front of the projector's lens would create the illusion of movement. This quickly progressed into animated images which came about with creation of ingenious mechanical slides. This included rack-and-pinion slides where glass discs were rotated using a handle (and which were often astrologically themed), lever slides, or single pulley slides which used a rope pulley system.
Items on display are part of a recent donation of magic lantern projectors and slides from John Tysall. Stop by the Archives and Special Collections Department on the 4th floor of the Ryerson Library to see the new exhibit located in the display case by the 4th floor reading room doors. The exhibition is designed and curated by Jocelyn Oprzedek and Olivia Wong.