This year marks a special Anniversary at Toronto Metropolitan University – a double anniversary. It has been 70 years since the founding of the school and 25 years since it achieved University status.
In conjunction with University wide celebrations, The Toronto Metropolitan University and Archives has created an exhibit, running June 1 – October 31, looking back at the history of the school. For each month the exhibit is open we will feature in our blog one of the 5 themes of the exhibit: 5 pivotal moments in Ryerson's history, Student Groups and Clubs, Student Government, Student Housing, and Athletics and Intramurals.
This month marks the start of a new school year and for thousands of Ryerson students the first time living away from home. So it is fitting that for September's blog we will look at student housing at Ryerson.
When Ryerson first opened in 1948, there was no campus housing for students. Students rented their own apartments, lived in rooming houses or in various YMCA or YWCA facilities. For the 1957-1958 school year Ryerson's Students' Adminstrative Council started a housing registry – to help students find accommodations in the city.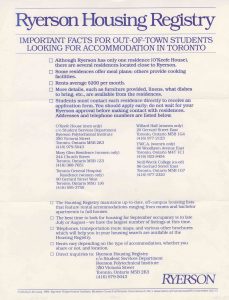 Church Street Annexes
In the late 1950s – early 1960s Ryerson purchased 323 and 333 Church Street for the purpose of providing housing to male students. Between 10 and 12 students lived in each building. After Kerr Hall residence opened in 1960, the students rooming in the Church Street residences were allowed to use Kerr Hall's amenities.
Kerr Hall – Eric Palin Hall
Kerr Hall, renamed Eric Palin Hall in 1969, was Ryerson's first residence. An all male dormitory that housed 42 students. Located in the refurbished Working Boys Home at 63 Gould Street (Now Oakham House). It opened in the Fall of 1960. In its first year running it cost students $10 per week to live there. It closed in 1972.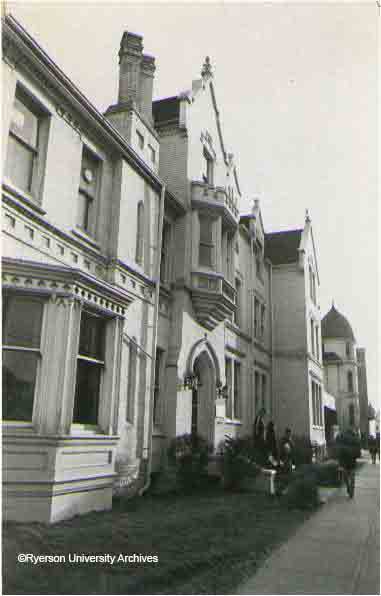 Bond House – O'Keefe House
Bond House opened its doors as a men's residence in 1964. Home to 33 students on 3 floors, it changed its name to O'Keefe House in 1978. It would eventually become a co-ed residence. O'Keefe House closed its doors at the end of the 2017-2018 school year.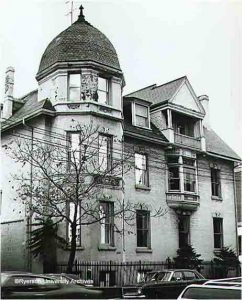 Neill-Wycik College
The Student Housing group of the Ryerson Students' Administrative Council joined the Co-op College and applied for incorporation in 1967 under the name "Neill-Wycik" – Neill for A. S. Neill the founder of Summerhill School in the U. K. and Wycik in honour of Mama and Papa Wycik.
The co-operative ran 3 (all male and co-ed) houses in Toronto for Ryerson students. They were located at 707 Spadina Avenue, 310 Jarvis Street, and 325 Church Street. They also rented 2 floors in the Rochdale College co-operative building at 341 Bloor Street West starting in 1968.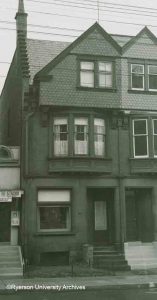 The purpose built Neill-Wycik College student residence building opened in November of 1970. It housed 800 students on 22 floors.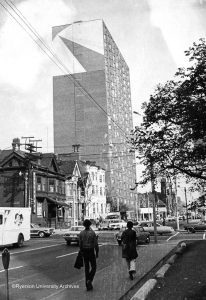 International Living/Learning Centre
Hotel Ibis, located at 240 Jarvis Street, was purchased by Ryerson Polytechnical Institute in August of 1993. The 11 storey building would be home to 270 co-ed students as well as the new home for the Hospitality and Tourism Management Program at Ryerson.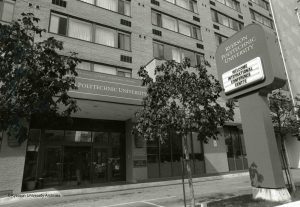 Pitman Hall
Pitman Hall is located at 160 Mutual Street. It has 14 floors and 565 rooms – with each floor having communal kitchen, lounge, and laundry facilities. The cafeteria is located on the main floor. This residence is co-ed.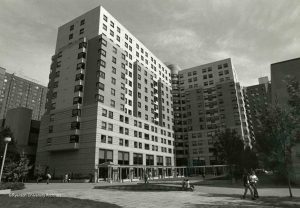 HOEM Residence
Opened in the Fall of 2018, Ryerson's newest residence HOEM is Ryerson's largest residence with 30 floors and 593 rooms. All suites are fully furnished and include a kitchen, living room, and single, private bedrooms. A co-ed residence that is open to both first and upper year students. HOEM was built and owned by Canadian Student Communities Inc. and is operated in partnership with Toronto Metropolitan University. To learn more about HOEM, visit their web page here.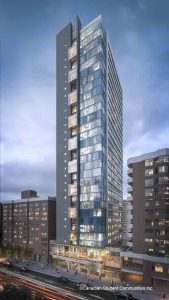 To learn more about Ryerson's history – please visit the Toronto Metropolitan University Archives and Special Collections located on the 4th floor of the library in Room LIB404.
Stay tuned for month for the final blog in the series – Student Athletics and Intramurals.