The Wellesley Hospital School of Nursing Alumnae Association fonds came to the Ryerson Archives and Special Collections in 2011. In it are several notebooks filled with course notes, and practical knowledge for the student nurse.
One of the notebooks dates to the 1920's and belonged to Wellesley School of Nursing class of 1925 graduate Elsie Kathleen Jones. Elsie K. returned to The Wellesley in 1928 and became the Director of Nursing in 1937, the role she held until her retirement in 1964.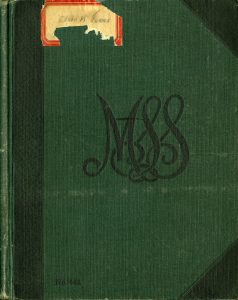 In the notebook there are notations regarding everything from making a proper hospital bed and caring for the sheets, to recognizing and treating a hemorrhage in a patient. The following are some excerpts from the notebook.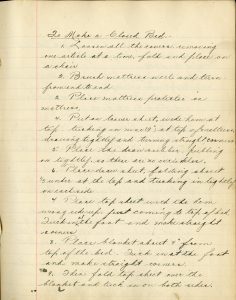 To Make a Closed Bed
Loosen all the covers, removing one article at a time. Fold and place on a chair
Brush mattress well and turn from end to end
Place mattress protector on mattress
Put on lower sheet, wide hem at top, tucking in nine (9") at top of mattress drawing tightly and turning straight corners.
Place the draw rubber, pulling on tightly, so there are no wrinkles
Place draw sheet, folding about 1/3 under at the top and tucking in tightly on each side
Place top sheet with the hem wrong side up, first coming to top of bed. Tuck in at the foot and make straight corners
Place blanket about 9" from top of the bed. Tuck in at the foot and make straight corners.
Then fold top sheet over the blanket and tuck in on both sides
Place the spread, reaching to the top of the bed, making straight corner at the bottom.
Place two pillows in bed. See that the pillows are well on the corners of the slips. Fold and place with closed end toward the door
The notebook also included instructions on how to make an "Ether" or surgical bed. The following are instructions for making up a surgical tray: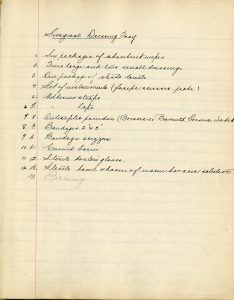 Surgical dressing tray
Six packages of absorbent wipes
Two large and two small dressings
One package of sterile towels
Set of instruments (forceps, scissors, probe)
Adhesive straps
Adhesive tape
Antiseptic powder (Borace or Bismuth Formic Iodide)
Bandages 2" x 3"
Bandage scissors
Curved basin
Sterile doctor's gloves
Sterile bowl or basin of warm boracic solution
Packing
The nurses were also responsible to pre-treating the bedding if stained before sending them out to be washed: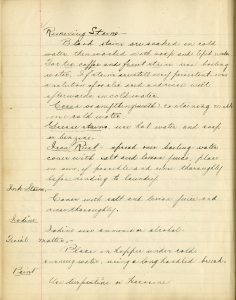 Blood stains are soaked in cold water, then washed with soap and tepid water. For tea, coffee, and fruit stains use boiling water. If stains are still very persistent, use a solution of oxalic acid and rinse well afterwards in cold water.
Cocoa or anything containing milk use cold water
Grease stains, use hot water and soap or benzene
Iron Rust – spread over boiling water cover with salt and lemon juice, place in sun, if possible, and rinse thoroughly before sending to laundry
Ink stains – cover with salt and lemon juice and rinse thoroughly
Iodine – use ammonia or alcohol
When it came to treating their patients there were basic instructions such as recognizing sings of and type of fevers and proper care of thermometers: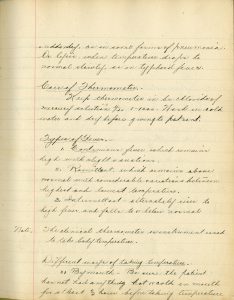 Care of thermometer
Keep thermometer in bichloride of mercury solution 1-1000. Wash in cold water and dry before giving to patient
Types of Fever
Continuous fever which remains high with slight variations
Remittent, which remain above normal with considerable variations between highest and lowest temperature
Intermittent – alternately rises to high fever and falls to or below normal
Keep thermometer in bichloride of mercury solution 1-1000. Wash in cold water and dry before giving to patient
The notebook also has a number of recipes for poultices, enemas, purgatives, and various medical solutions used by nurses to treat a variety of medical conditions. The Linseed poultice was used for treating chest congestion and pneumonia: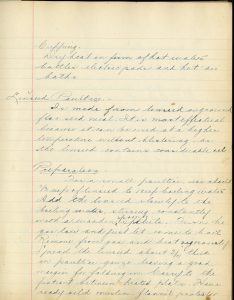 Linseed Poultice
Is made from linseed or ground flax seed meal. It is most effectual because it can be used at higher temperatures with blistering, as the linseed contains considerable oil.
Preparation
For a small poultice, use about 2/3 cup of linseed to 1 cup boiling water. Add the linseed slowly to the boiling water, stirring constantly with a wooden spoon or spatula. Turn the gas low and just let come to a boil. Remove from gas and beat vigorously. Spread the linseed about 3/4" thick on poultice gauze leaving a good margin for folding in. Carry to the patient between heated plates. Have ready oiled muslin flannel protector binder and pins
*Note – Linseed poultice must be hot, light and smooth.
To view the notebook in its entirety or look through other items in this fonds – please contact Ryerson Archives and Special Collections at asc@ryerson.ca