2019 Toronto Metropolitan University Library DME Lab Creators Grant Recipients
Hansel Igbavoa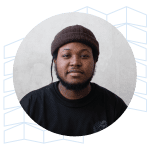 Hansel Igbavboa is an entrepreneurship & strategy student in his third-year at Toronto Metropolitan University's Ted Rogers School of Management. He is a visual and vocal artist, combining his love for the arts with social justice. His mission is to create social ventures that will disrupt the current socioeconomic status across the globe using creative outlets as a medium and/or means of leverage. He currently has a Youtube channel called Vlogoo where he shares his perspective and experiences as a student in Toronto.
Project one-liner: Using 360 video Hansel hopes to "demystify Black Hair, further normalize the beauty in our hair and affirm the struggles that come with the public perception…"
Kelly Bang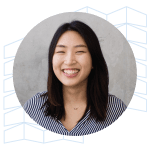 Kelly Bang is a second-year architectural science student at Toronto Metropolitan University. She believes the most important trait an individual needs is a positive mindset to tackle design challenges and push for innovation. Her pursuit of architecture comes from her particular interest in composition of spaces, and the impact sensuous experiences with architecture can leave on an individual. With a background in visual arts and two years of school, she is able to balance different aspects of a project with respect to technicality and artistic expression. She has had three projects recognized at the annual Department of Architectural Science (DAS) Year End Shows, and has worked on the DAS publication, 325 magazine. She wishes to pursue a career in architecture, and strives towards equitable and sustainable design.
Project one-liner: Kaleidoscope seeks to design and create 'light prisms' as planters to address issues of street lighting and women's safety.
Alannah Fricker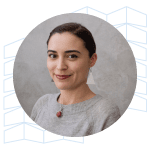 Alannah Fricker is a third-year social work student at the Faculty of Community Services. She is the president and founder of Canadian Students for Sensible Drug Policy (CSSDP) at Toronto Metropolitan University–a group she started in response to the overdose crisis, and lack of administrative support at TMU for a public health approach to substance use. CSSDP aims to raise awareness and improve safety on campus by promoting harm reduction, connecting students to resources, reducing stigma, and educating about drug policy reform as a critical aspect of anti-oppression. Alannah is also an artist, caregiver, and is the administrator to the Jack Layton Chair.
Alannah Fricker is passionately committed to improving student life on campus. As the founder and president of Canadian Students for Sensible Drug Policy at TMU, she is a tireless advocate for harm reduction approaches to drug use as a way to improve community safety and support human rights, autonomy, and dignity. Through community outreach, awareness campaigns, workshops, events, and collaboration, her group aims to challenge stigma and connect students to information and resources. She hopes to create a forum whereby students, faculty, and community members can come together to find innovative, creative, and compassionate solutions to challenges in our community.
Project one-liner: A harm reduction website to support student safety and public health approach to substance abuse.
Paul Benson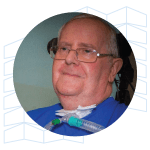 Paul Benson, a self-described lifelong learner and communicator, is in his first year of the Disability Studies program at the TMU School of Disability Studies. Benson continually strives to learn as much as he can about how the world works and to examine areas where it simply doesn't. As a person with a disability, he sees areas of social breakdown and inequities that need to be addressed that may not be apparent to many leading a more "mainstream" life. Benson feels fortunate to have these experiences of difference that have highlighted possibilities for different – more inclusive and more respectful – ways of organizing society. He now wants to share what he's discovering with a much broader audience and advocate for changes he feels are necessary and – in some cases – long overdue. Through project work, research, and advocacy, Benson believes he can make a positive contribution to the community that sustains him. He feels this is one of the most productive periods of his life and appreciates the opportunity to partner with Toronto Metropolitan University to leverage what he can accomplish.
Project one-liner: A documentary that showcases persons with disabilities who are agents of social change.