The TMU Library DME Creators Grant supports undergraduate students who want to create innovative, sustainable, and digital experiences that address social equity issues.
Participants receive a grant of $3000 plus a production budget of up to $1500, access to Library resources and expertise, production training, and mentorship at the Digital Media Experience Lab.
---
2020 Recipients
These 5 students submitted their extraordinary project ideas back in March, just prior to the university's closure due to COVID-19. When the world was trying to grapple with a global pandemic and contain the spread of a swift moving virus, these students continued to charge ahead and take hold of projects they felt passionately about.
---
Niya Abdullahi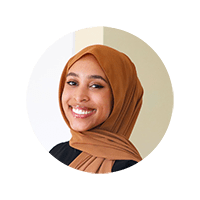 4th year, Business Technology Management and Co-op, Ted Rogers School of Management
Business Technology co-op student Niya Abdullahi, is a Tech-Enthusiast and aspiring Filmmaker. Earlier this year, she founded Habasooda, a media platform dedicated to sharing the richness of the Muslim experience through a variety of storytelling avenues such as videos and infographics.
With the Library DME Creators Grant, Niya is creating a documentary that explores the stigma of Mental Illness within the Muslim community.The documentary will explore the differences between mental illness and mental health while showcasing the realities of being a Muslim with a mental illness. "Often when one is dealing with a mental illness; they are told that their symptoms may be due to a lack of faith and/or supernatural occurrences" says Niya.The film will shed light on what a community's denial could do to someone's own inner battles and how we as a community can combat stigma.
---
Emerson Kafarowski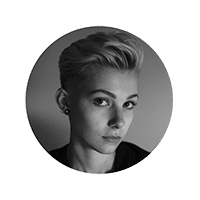 4th year, Performance Production, Faculty of Communication and Design
Emerson Kafarowski is an emerging lighting designer currently finishing her BFA in Production & Design at TMU's School of Performance.
With the Library DME Creators Grant, Emerson is building a portable lighting console for small-scale live entertainment events, including theatre, dance, and live music. The lighting console will cater to shows and productions produced by independent and emerging artists or companies with limited budgets, as well as non-traditional performing arts spaces without existing technical infrastructure. It will also promote and incentivize industry-level lighting design and operation in a comprehensive and accessible format.
Emerson's project will be open-sourced and is inspired by Electronic Theatre Control (ETC) Labs #lighthack, a community-driven project designed by ETC users and employees to share and co-develop open-source apps, programs and hardware. It is Emerson's intention that, once complete, the details of this project including the equipment list, assembly instructions, and code, will be made available to others interested in creating and/or customizing low-cost, portable programming wings and devices of their own.
---
Takoda Kemp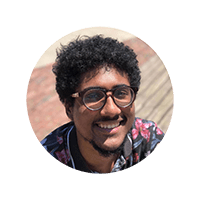 3rd year, Geographic Analysis, Faculty of Arts
Having grown up on a farm in the Bahamas, Takoda has a deep connection to the natural world. Coupled with interests in Geographic Information Science (GIS) and Robotics, his project tackles issues involving food insecurity. Seeing how structural barriers can hinder people without access to arable land, Takoda knows first-hand that quality infrastructure and education can provide opportunities to create a productive and sustainable crop.
With the Library DME Creators Grant, Takoda is investigating the use of drones to provide agricultural analysis and services to farmers in Canada and the Bahamas. With a camera drone, he is creating 2 and 3-dimensional maps that categorize soil and plant types to help facilitate manual aspects of farm labour such as seed sowing, and crop control. Takoda will then retrofit the mapping process to all dwellings and settings, including urban centres, so analysis of surroundings can clarify which crops can be grown where. An additional aspect of the project is to investigate the use of drones to sow crops that can germinate on the soil's surface, like micro-greens and salad greens.
---
Elvina Raharja
2nd year, Creative Industries, Faculty of Communication and Design
Elvina Raharja is a second-year Creative Industries student focusing on the performing art  and film  industries. Growing up in Indonesia, Elvina trained as a dancer and became passionate about learning different dance styles and histories to help cultivate her voice and awareness as an artist. Throughout her training and career in dance, she has also seen first-hand the discrepancy in the representation of women of colour in mainstream media–especially plus-sized women.
As an aspiring producer and creative director, Elvina is committed to pushing for safe spaces and inclusivity for everyone, especially within the dance industry.
With the Creators Grant, Elvina is creating a short dance film that highlights curvy and plus-sized women of colour. Her goal for the project is to help dismantle, through dance, pre-existing body standards and to push a body inclusive, positive narrative.
---
Sojourner San Vicente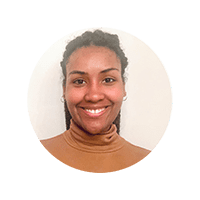 3rd year, TMU Midwifery Education Program, Faculty of Community Services
With the Library DME Creators Grant, Sojourner San Vicente–along with fellow TMU Midwifery Education Program (MEP) students Tumaini Lyaruu and Hanan Yousuf–is developing a series of educational videos on midwifery care featuring Black midwifery students, midwives and clients. As a group of Black midwifery students, they have anecdotally identified various false assumptions that have prevented Black community members from accessing midwifery care, and understanding their pregnancy care options. The videos aim to: increase awareness about midwifery care in Ontario, increase the visibility of Black midwives, midwifery students and clients, and enable Black communities to see themselves reflected in midwifery care.
Through the videos, Sojourner, Tumaini and Hanan hope more Black families will become interested in considering midwifery care as an option for their pregnancies.