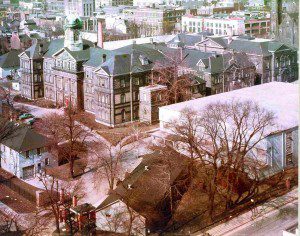 This photograph was donated to the Toronto Metropolitan University Archives in 2005 by John Sebert, a 1951 graduate in the former Photographic Arts (now Image Arts) program, who later enjoyed a long and active career in the film production business in Toronto.
One of only several early colour images of the campus in the Archives Collection, it was taken by Mr. Sebert and a fellow student, John Chadwick (also Photo Arts '51), atop a building on the old Simpson-Sears property, east of Church and Gould streets.
The photograph is a fascinating testament to University's past, not only because of its rarity but also because of the buildings it depicts. These include, first and foremost, the venerable Normal School (pictured in the centre), which Egerton Ryerson had built in 1852 as the first teacher-training facility in Ontario and which gave way, in 1963, to the new campus of a growing Ryerson Polytechnical Institute.
Surrounding the Normal School buildings (or Ryerson Hall as it came to be known) are low-level structures of varying shapes and sizes which were first erected to support the war effort from 1941 to 1945 and which were later used to train veterans re-entering the peacetime workforce.
In the top right-hand corner of the photograph is Saint James Square United Church which was built in 1878 by noted architect James Avon Smith and which stood on this site until the 1970s when it was demolished in favour of a high-rise apartment building. On its left in the picture is the Gorries Automobile dealership, in its time one of the most successful in the country. It later moved to Scarborough and became the well-known Golden Mile Chev-Olds dealership.
Finally, on the north-western periphery of the Normal School/Ryerson Hall property ("St. James Square") are glimpses of two area landmarks which have survived to this day: the Willard Hall/WCTU/Covenant House building, on the north-east corner of Gerrard and Yonge streets; and further north on the west side of Yonge Street, College Park, which, at the time of this photograph, was the home of Eaton's College Street department store.