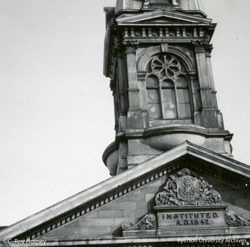 The Ryerson Institute of Technology was founded in 1948 as an experiment in postsecondary education. Established primarily as a training ground for the growing workforce of a booming post-war economy, the Institute was a novel alternative to the traditional apprenticeship system of technical learning. When it moved into the century-old buildings of the Toronto Normal School in historic St. James Square, the Institute followed in the footsteps of its namesake, Egerton Ryerson, the architect of Ontario's educational system. It was on this site that Ryerson established the province's first teacher-training facility, as well as a museum, art school and agricultural laboratory. These endeavours influenced cultural and scientific developments in Ontario for years to come and enhanced the Square's reputation as the province's cradle of education.
During the Second World War and in the post-war period, the Normal School buildings gave way to a ground training facility for air force pilots and to trades training for: armed services personnel, civilians in wartime industry and veterans re-entering the peacetime workforce. A natural outgrowth of these activities was the Ryerson Institute of Technology In its first years, Ryerson offered short trades-oriented programs geared to prospective job markets. Under the guidance of its founding principal, Howard Kerr, it matured into an institution with a curriculum that increasingly emphasized management skills and the humanities, hallmarks which would later distinguish Ryerson from its many counterparts.
In the late 1950s, a multi-million dollar modernization program was launched to accommodate the Institute's rapid growth. Ryerson's expansion led to further changes in 1963-1964 when a provincial bill provided for the appointment of a board of governors, changed the Institute's name to Ryerson Polytechnical Institute and effectively gave the 15-year-old institution a mandate for reorganization and self-determination.
Several years later, wide-ranging recommendations were introduced in the areas of physical resources and facilities, academic policies and procedures, and communications. These resulted in three important developments: a building program incorporating new facilities for classrooms, administrative and student services, learning resources and technology; a more open and experimental approach in the classroom; and most importantly, the authority to grant degrees, in 1971.
Despite the financial difficulties of postsecondary educational institutions, especially in the early to mid 1970s, the capacity to grant degrees imbued Ryerson with a renewed sense of purpose and direction. The new division of Community Services was established. Three schools of nursing were transferred from the hospital sector to the Institute. Day and evening programs were integrated. And new ventures, including Open College, Ryerson Applied Research Limited, the Management Development Institute and three major resource centres were undertaken. The implementation of the Ryerson Community Plan and an updated Ryerson Act completed a decade of frenetic activity. In the 1980s, Ryerson vowed to continue its active partnership with business, industry and government, in areas of educational concern ranging from social services to high technology. Growth and progress were emphasized through the construction and renovation of buildings and the addition of state-of-the-art equipment. Important initiatives such as the Centre for Advanced Technology Education, the Academic Computing Information Centre , the Office of Research and Innovation and the Rogers Communications Centre, as well as the accreditation of Ryerson Engineering programs, paved the way for what is perhaps Ryerson's greatest milestone as a postsecondary educational institution.
Indeed, in 1993, a bill was passed to grant Ryerson full university status and the necessary funding to conduct research and establish graduate programs. However, the euphoria engendered by this event was tempered by an economic downturn which severely afflicted most sectors, including colleges and universities, and forced these institutions into a mode of retrenchment. After several years of hardship, conditions started to improve by the mid 1990s. At Ryerson, a Vision Task Force was established to identify and focus on areas of concern and improvement and to provide the University with clear goals for the future. By 1998, the year of its 50th anniversary, Ryerson was poised to face the challenges of the new millennium.
In June 2002, in order to reflect Ryerson's emergence as a full-fledged university with a mandate to grant graduate degrees and engage in advanced research, the new name of Ryerson University was approved by the provincial government.
Today, Ryerson is undergoing significant change in both its curriculum and its infrastructure. Graduate programs and research centres in a variety of disciplines are being established. And new structures and additions – including the Ronald D. Besse Information and Learning Commons, the G. Raymond Chang School of Continuing Education, the George Vari Engineering and Computing Centre and the Ted Rogers School of Business Management – are enhancing the Ryerson Campus and helping to accommodate a growing student population.
Although Ryerson is continuing to evolve and grow, its mission remains the same today as it was in 1948: to provide leadership in career-focused education and to fulfill contemporary societal needs.
Claude W. Doucet, Archivist
Ryerson University*
July 2007
*This brief history was written in 2007. In 2022, the University was renamed Toronto Metropolitan University.