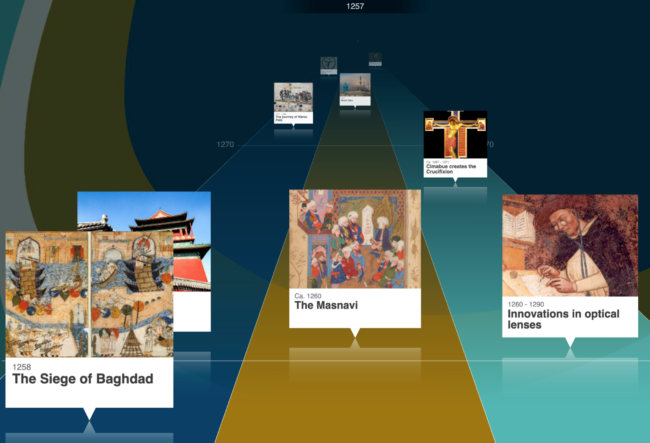 Toronto Metropolitan University (TMU) Libraries has once again partnered with the Aga Khan Museum to develop digital installations for their current Rumi exhibition. Since 2019, the Libraries' Information Technology (LITs) and Collaboratory teams have collaborated with the Museum on immersive projects for exhibitions, providing graduate students with real-world opportunities to work on digital installations. The first collaboration was the 2021 Remastered exhibition of Persian, Turkish, and Mughal Indian manuscript paintings, in which the Libraries developed: holographic 3-D visualizations, smartphone interactives, digital restorations and animations of artwork. The partnership has continued to grow, giving unique opportunities for graduate students to gain experience working with immersive technologies. 
Last August, the Aga Khan Museum reached out to TMU Libraries to kick off discussions about their then upcoming exhibition titled Rumi: a visual journey through the life and legacy of a Sufi Mystic. The exhibition, which opened in May and runs through to October 2023, "celebrates one of history's most famous poets on the 750th anniversary of his passing." Dr. Michael Chagnon, who joined the Museum in 2019, curated the exhibit that explores "Rumi's enduring impact through an examination of artifacts, manuscripts, and contemporary art." TMU Libraries, along with a group of contemporary artists, was asked to assist in creating new ways of learning about the poet's life and experiencing his work.
Under the direction of TMU Libraries' Immersive Technology Specialist Michael Carter-Arlt, the partnership (and this project), has given way to the opportunity for Library Collaboratory research assistants and TMU graduate students Ava Mozaffari, Liam Gregory and recent grad Jae Seo to gain experience and expand their skills in fabrication and 3D printing, contextual video creation, and large-scale projections. 
"The Libraries' partnership with the Aga Khan Museum has allowed students and faculty to learn how XR technology can be used for museums," says Carter-Arlt. "It's rewarding and a privilege to work with and mentor graduate students, as they develop their own professional portfolios."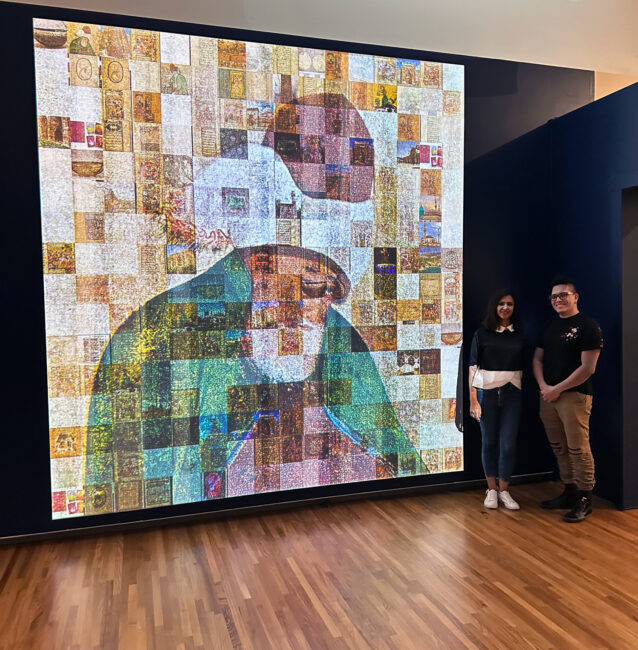 Mozaffari, an international student and 2023 graduate of the TMU Master of Digital Media program, worked as an assistant developer on the project creating a contextual video and a portrait projection of Rumi. "This project was a fusion of my Persian roots, and digital art and technology," she says. "It allowed me to expand my technical capabilities and also gain a richer appreciation for my own culture and its enduring impact on the world." 
The portrait, a ten by ten foot tiling animation made up of multiple images related to the poet, is seen at the beginning of the exhibit and acts as an introduction to the poet's work and life. From a distance, visitors see the poet's face. As they move towards the projection they discover folios, significant artifacts, statues of and poems by Rumi. The piece provides an understanding of the poet's legacy in a single instance through a purely visual context. 
Using the open-source programming language Processing, Mozaffari developed and coded the installation so it could be re-scaled, re-formatted and re-purposed for new projects. Prior to this she worked in Processing for student projects, but had not explored its use for such a  large piece. This project pushed her to learn how to adapt and alter the code.
Recent computer science graduate Jae Seo had previously worked with Carter-Arlt on the Remastered exhibition and acted as a consultant for the Rumi projection portrait. Similar to Mozaffari, Seo valued the opportunity to further develop skills and explore Persian-Islamic culture. "This project allowed me to utilize AI tools to expedite the process for coding using Processing, a language I'm not very familiar with," says Seo. "It also opened my eyes to the captivating intricacies of Islamic culture."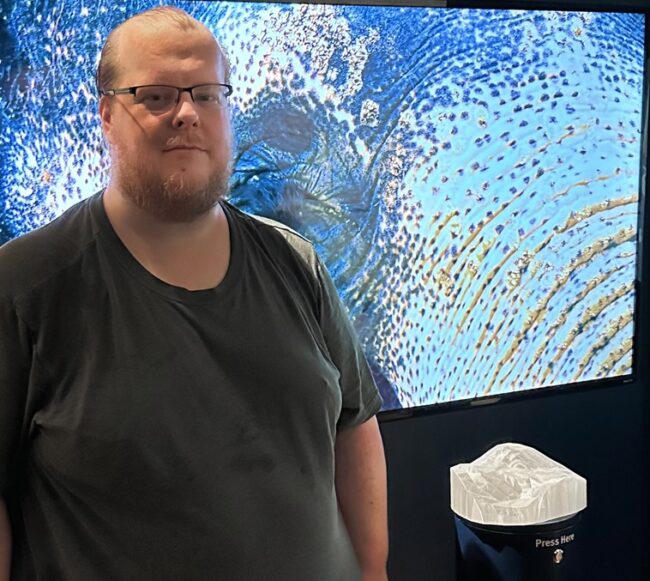 In addition to the portrait, Liam Gregory, a graduate student in Computer Science, assisted with the 3D printing of three exhibit artifacts. The prints were done in collaboration with artist Simin Keramati who had also created an interactive installation for the exhibition. While knowledgeable about the 3D printing process, Gregory had not worked on a large-scale project. Through the collaboration, and working from 3D models that had been created by Carter-Arlt, he was able to gain a solid grounding in 3D printing. 
"The pieces for the Rumi exhibit presented an interesting challenge in printing sturdy parts for public use. Getting such large and strange pieces to print well was a neat test of my skills and of equipment available at the Library Collaboratory," says Gregory. "It was great to help out the exhibit and add something very different to my portfolio."
In total, the LITs and Library Collaboratory teams developed five immersive experiences. In addition to the portrait projection and 3D printing of artifacts, the project scope included: a 13th century interactive timeline of world events, Rumi's life and his impact on art and architecture; a contextual video depicting three folios related to Rumi's poetry; and a touch screen application that allows visitors to engage with selections of four Rumi poems.
"Our partnership with the Aga Khan Museum has been a wonderful opportunity for our students to gain valuable experience that they can take into their career," says Kelly Dermody, head of LITs. "We hope to explore more partnerships with organizations like the Aga Khan Museum in the future."