181 comic books published during the 1940s serve as a trove of research possibilities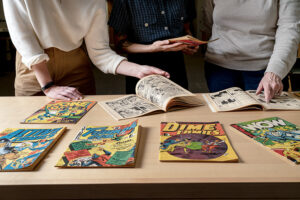 Everyone knows Batman, Superman and Spider-Man, but thanks to a generous anonymous donation, TMU students and researchers can get a glimpse of Canada's own comic book history and heroes.
In February 2015, TMU received a donation of 181 rare Canadian comic books from the Second World War, featuring such legends of Canadian pop culture as Nelvana of the Northern Lights and Canada Jack.
"It's the holy grail of Canadian comics," says TMU Professor Andrew O'Malley, who has used the collection for his own research, including his project "Comic Books, Children's Culture and the Crisis of Innocence, 1940-1954." Classes in the English department have also used the collection for curations.
Read the full article by Michelle Grady in the latest issue of Toronto Met University Magazine.