Institute for Canadian Citizenship, Immigration, Refugees and Citizenship Canada in partnership with the Library, host Enhanced Citizenship Ceremony
On Wednesday, November 13, Immigration, Refugees and Citizenship Canada and the Institute for Canadian Citizenship, in partnership with the Library hosted a special citizenship ceremony, themed Innovation and Entrepreneurs. 
New citizens were welcomed during an enhanced ceremony that took place on the 8th floor of the Student Learning Centre. 
Proceedings began with remarks and smudging offered by Elder Wendy Philips, and roundtable discussions facilitated by Librarians and Library staff. The discussions provided opportunities for new citizens, family and friends to come together and share stories about their journeys to citizenship and what it means to them to be Canadian.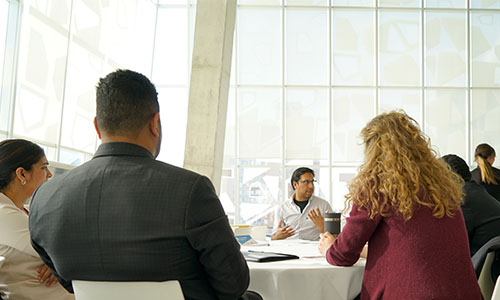 Having an opportunity to listen to these stories, Library facilitators felt honoured to be a part of the days events. "Being a facilitator was an amazing experience, it was a joy to meet such a diverse group of people, and to be there at the start of their lives as Canadian citizens. The stories they told were incredible to hear, both funny and poignant," said Namir Ahmed, Library DME Coordinator. 
Following roundtable discussions, the official citizenship ceremony began with Judge Hardish Dhaliwal presiding over proceedings and asking the platform party– including Ryerson President, Mohamed Lachemi and DMZ Executive Director, Abdullah Snobar, to assist with the presentation of certificates.
During his remarks as a member of the platform party, President Lachemi welcomed all citizens, their families and friends to the Ryerson campus on behalf of the University and the Library.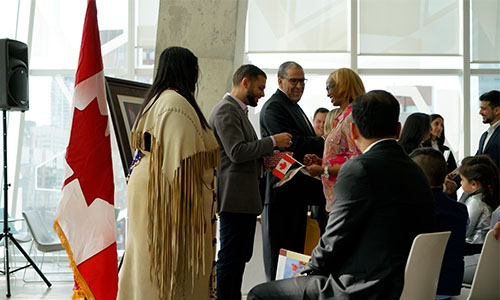 "It was a privilege for the Library to have the opportunity to partner with the ICC, and IRCC to host this special ceremony. Listening to the new citizens' stories was truly inspiring and highlighted the inclusive, diverse, welcoming community we all work in at Ryerson," Carol Shepstone, Chief Librarian, Toronto Metropolitan University Library.
As the ceremony concluded, all participants—as well as Ryerson community members and students—were invited to a reception in celebration of their new citizenship.
---
Denise O'Malley-Farrell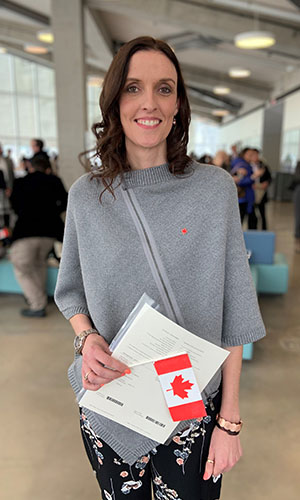 Q: What does today mean to you?
A: I'm really excited to be a Canadian, and become a Canadian today. I'm happy to have been here for 7 years, and I look forward to seeing more of Canada, exploring the country, and meeting all the new people, and exploring the diversity that Canada has.
Arora Family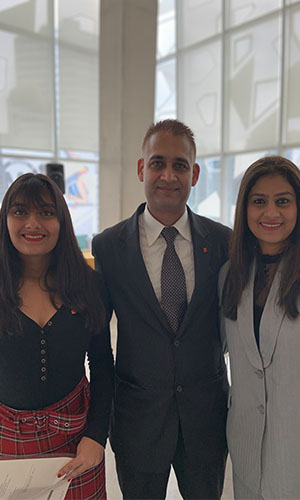 Q: In one word, how do you feel about becoming a Canadian citizen?
A: Kurangi Arora: I feel excited today.
Parveen Arora: I feel amazed today.
Puja Arora: And, I feel privileged to be here.
(left to right)
Event details:
The Institute for Canadian Citizenship (ICC), in partnership with Immigration, Refugees and Citizenship Canada, and the Toronto Metropolitan University Library celebrated 52 new Canadian citizens during an enhanced citizenship ceremony.
Date: Wednesday, Nov. 13
Time: 10 a.m.
Location: 8th Floor SLC Building