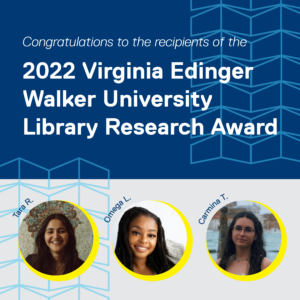 "Research is about building on previous knowledge and expanding on new ideas," says psychology student Omega L. who received one of three 2022 Virginia Edinger University Library Research Awards.
The award recognized student achievement in original research with a special focus on the critical use of library resources and research skills. Established by Petros Dratsidis and TMU Libraries for the 2021/2022 academic year, the prize celebrated Dratsidis's late wife Professor Virginia Edinger Walker– an art historian who taught at Toronto Metropolitan University (formerly Ryerson University) for more than 20 years.
Recent TMU graduates Omega L.,Tara R. and Carmina T., were selected for their outstanding 2022 essay submissions, receiving an award of $2000 each. While honouring the legacy of Professor Walker, the award also shone a bright spotlight on the academic excellence of these three students.

Omega L.
Described by her supervisor, Professor David Day, as having a passion for learning and the motivation to work hard, Omega L received the prize for her thesis that examined domestic assault by a female perpetrator and the perception of the severity of the incident, attribution of blame and the similarity of effects on the study participants. Omega's work was "a unique study in a literature that has previously only examined such defined characteristics as gender, age, and ethnicity/racialized groups as the independent variables," says Day
Making extensive use of library resources, Omega conducted a comprehensive literature and critical review of the established research. In doing so, she learned the effectiveness of a literature review in providing a coherent account of current research and data. "It helped to further develop critical thinking skills when analyzing the methods used in articles and assessing the articles' strengths and weaknesses," she says. The review ultimately helped her develop a new area of investigation.  
–
Tara R.
Recent TSRM graduate, Tara R. submitted her fourth-year paper, in which she argues that the Ontario Employment Standards Act (ESA) should be amended to address representation gaps. The paper not only thoroughly impressed her professor, but also the award adjudicators. In her letter of support for Tara's submission, TRSM Professor Pnina Alon-Shenker reflects that her "paper demonstrated outstanding research skills and allowed (Tara) to advance an argument, which was well supported by rich and compelling literature on the subject matter." 
Tara feels the experience of writing the paper helped her refine research skills, which she'll continue to use in future academic work. "This paper informed my scholarly development, inquiry, critical thinking, and research skills by challenging my ability to conduct comprehensive research," she says.
–
Carmina T.
Carmina T. was selected for the undergraduate honours psychology thesis stream and worked on a research project and paper with Professor Sarah Dermody. Her paper titled Examining the Relationship between Drinking Motives and Minority Stress in Transgender Adults who Drink, received top marks for its demonstration of outstanding research and quality of paper. Dermody describes Carmina as "highly skilled in identifying relevant research literature from TMU Library resources and incorporating them into a cohesive and convincing narrative," noting that her literature review was one of the "best [she'd] reviewed" by an undergraduate student. Carmina also notes that "writing the thesis proposal was a great learning experience in terms of research adequacy and preparation for graduate school."
For all three undergraduate scholars, the Virginia Edinger Walker University Library Research Award rewards their pursuits in undertaking rigorous, new research. The skills acquired in searching, finding, reviewing and analyzing studies in order to understand and build new areas for inquiry, are celebrated with this award. 
"Papers and studies are often recognized, but the research skills, resources and work undertaken for those papers and studies is often overlooked, particularly with regard to awards," says Dana Thomas, interim chief librarian. "The Virginia Edinger Walker University Library Research Award celebrates that work in pursuit of academic excellence. We are so pleased to be able to acknowledge these young scholars in honour of Professor Walker."
TMU Libraries offers monthly research skills workshops. Open to all TMU students, workshops are designed to instruct students on topics that range from understanding literature and systematic reviews to managing data to search skills for specific databases and online resources. To learn more and register for upcoming workshops, visit: TMU Libraries – Workshops