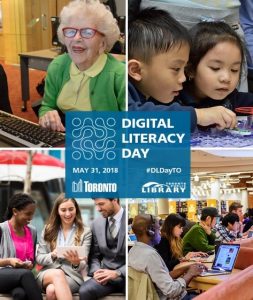 Thursday, May 31st is Toronto's first Digital Literacy Day! The Toronto Metropolitan University Library & Archives (RULA) is one of many partners providing free events and programming across the city to explore the ways technology has changed the way that we work, play, educate and teach. RULA is showcasing how we support digital literacy learning in our spaces through sponsorship of student projects, workshops, and hands-on demonstrations by Library staff.  The complete list of events available across this city is accessible on the City of Toronto website.
At the Toronto Reference Library from 9:30am-11:30am, RULA is showcasing innovative uses of digital technology by Ryerson students and Library staff, including:
Micropayment for Smart Sensors is a student project that enables payment features to any electronic sensor via an online dashboard, with use cases ranging from housing to retail to industry. Examples of potential use would include a fully-automated modular home with payment-enabled sensors that would be ideal for a new immigrant or a tourist looking for short-term rentals.
Facial Recognition Enabled Smart Door involves student design of a facial recognition device that will provide access to staff members into an equipment room as a pilot project for door security. This device will be capable of identifying visitors before they enter the room from a digital image using computer vision techniques.
ioTree: Community Gardens  is a garden monitoring system developed by students that allows users to track growing conditions, and prompts users when action should be taken to maintain the garden. The gardener will be prompted with a dry soil alert when watering is needed, and past trends in garden conditions can be used to predict the timing of future maintenance.
Remembering the Real Winnie Digital Project is a demonstration/showcase of how digital technology is bringing history to life, presented by Ryerson Librarian, Sally Wilson.
At the Agincourt branch of the Toronto Public Library, RULA is sponsoring Tetra Ryerson's Exoskeleton Workshop from 6p.m.-8p.m., a hands-on STEM education workshop where attendees will learn how to build their own robotic exoskeleton. Participants will learn the history and importance of robotic exoskeletons, current technology, how they are built, as well as their various applications. They will be able to simultaneously apply this knowledge while building an actual robotic exoskeleton consisting of 3D printed parts, motors, sensors and other equipment. Please register online to participate in this workshop.
On-site at Toronto Metropolitan University, the Library's Digital Media Experience Lab and Collaboratory, located on the 3rd floor of the Student Learning Centre,will have an open house from 10a.m. – 5 p.m.  Participants will view demonstrations and engage with VR and AR technologies including the Oculus Rift and HoloLens, 3D printing, and laser cutting of RULA keychains for participants.
Participants can also register for afternoon workshops on thematic aspects of digital literacy:
Trust and Bias in Digital Literacy (2:30pm-3:30pm in the Collaboratory, Library's 3rd floor)
Ryerson Librarians will present on helping users and creators master the important skill of digital literacy. They will discuss why users need a higher-level critical lens when navigating the digital realm, and why the skill of evaluating information in a digital space is necessary.
What is Machine Learning? (3:30pm – 4:30pm in the Collaboratory, Library's 3rd floor)
This talk will feature an introduction to artificial intelligence with a focus on machine learning (ML) applications, including the overall workflow of an machine learning program and common use cases in the industry. This talk will briefly touch upon the emergence of machine learning and neural networks in computer vision applications.