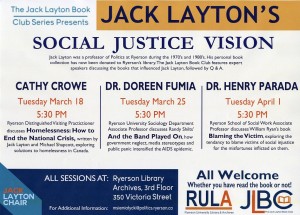 The second annual Jack Layton Book Club Series is coming to the Toronto Metropolitan University Library and Archives this March and April. Join distinguished guest speakers and faculty as they discuss the books that influenced the late Jack Layton. Former professor of politics at Toronto Metropolitan University, Jack Layton's collection of books was donated to the Library and Archives in 2011, and his collection informs this book club series. All book club meetings will be held on a Tuesday evening at 5:30 p.m. in the archives on the 3rd floor of the library building.
March 18th join visiting practitioner, nurse, and social activist, Cathy Crowe as she discusses Layton's work Homelessness : How to End the National Crisis 
March 25th join associate professor Dr. Doreen Fumia as she addresses the AIDS epidemic and Randy Shilts' film, And the Band Played On
April 1st join associate professor Dr. Henry Parada as he discusses social injustices and victim blaming in William Ryan's book, Blaming the Victim
Whether or not you have read the book, you are most welcome to attend!