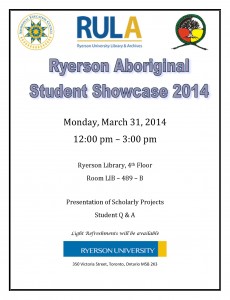 The 5th Annual Aboriginal Student Showcase is scheduled for Monday March 31st, and all are welcome to attend. This year's agenda includes presentations by students across four faculties, Ryerson library and faculty speakers, and representatives from the Aboriginal Education Council. Light refreshments will be served.
12:00 pm- 12:30 pm  – Opening remarks by Madeleine Lefebvre, Chief Librarian; Dr. Cyndy Baskin, Chair – Aboriginal Education Council; Dr. Denise O'Neil Green – Assistant Vice President/Vice Provost – Equity, Diversity & Inclusion; and Joanne Dallaire, Elder – Aboriginal Education Council.
12:30 pm-1:00 pm – 1st presentation by Jeff Swartzentruber, Mechanical Engineering – presenting on  his research and mentorship with Dr. Peter Lui of the OMAX Corp. in Seattle, Washington.
1:00 pm-1:30 pm – 2nd presentation by Nicole Wemigwans & Kathleen Longboat- presenting on their experiences attending the Child & Youth Care World Conference in St. Johns, Newfoundland.
1:30 pm-2:00 pm – 3rd presentation by Brittany Ryan -RULA's very own student assistant, presenting on her mentorship with acclaimed actor, director, and choreographer, Michael Greyeyes.
2:00 pm – 2:30pm – 4th presentation by Caitlin Davey, Doctoral student of Clinical Psychology – presenting her project work entitled: Development, Implementation and Evaluation of a Knowledge Translation Strategy to Enhance Mental Health and Wellbeing Among Aboriginal Students.