Physician-scientist, author,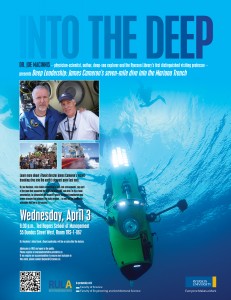 deep-sea explorer and Ryerson Library's first distinguished visiting professor, Joe MacInnis, presents 'Deep Leadership: James Cameron's seven-mile dive into the Mariana Trench' on Wednesday, April 3 at 6:30 p.m. in TRS-1-067.  In this visual presentation, Dr. MacInnis chronicles the forces of nature, technical breakdowns and severe stresses that plagued this risky mission – as well as the leadership principles that led to its success.
Admission is free and open to the public – please register at: marianatrenchdive.eventbrite.ca
Copies of Dr. MacInnis' latest book, Deep Leadership, will be on sale after the lecture.