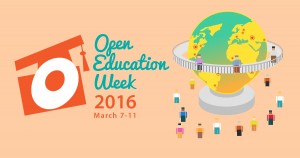 A Guest Blog By Michelle Schwartz of the LTO for Open Education Week 2016
In February, Ryerson was excited to host Rajiv Jhangiani, a faculty member from Kwantlen Polytechnic University, for a talk on his research into the use of open textbooks to teach psychology. Open textbooks are defined as textbooks to which the copyright holder has assigned an open license, which allows anyone the right to access, reformat, and customize the textbook to best meet their needs. These textbooks can be downloaded or printed in hard copy for a small cost via print-on-demand. The author, rather than a publishing company, retains the copyright, and the textbooks are often peer reviewed.
Dr. Jhangiani is the author of two open textbooks hosted by the BC Open Textbook Project. The Open Textbook Project is an initiative by the government of British Columbia to make education more accessible. By developing open access textbooks for the subject areas with the highest enrollments in the province, British Columbia hoped to reduce the financial burden on students. The project has grown steadily over the course of the last few years, and as of March 2016, could boast of the following statistics:
Number of BC Open Textbooks: 139
Number of students using open textbooks: 12,159
Number of faculty adopting open textbooks: 110
Number of institutions adopting open textbooks: 26 (21 Public, 5 Private)
Student savings: $1,215,900 – $1,540,680
As an example of an open textbook, Dr. Jhangiani's Research Methods in Psychology is in its 2nd Canadian edition. It can be downloaded for free in a multitude of formats, from PDF to epub, and it can be printed on demand for a small fee – $10.90 for black and white, or $32.25 for a colour version. As a comparison, a textbook on the same topic from a major publishing company is currently retailing on Amazon.ca for $276.
Though the importance of this cost difference to students cannot be understated, perhaps an even greater benefit of open textbooks was brought up by Dr. Jhangiani at his talk – by publishing with an open license, Dr. Jhangiani felt he had much more latitude to provide unique Canadian examples that he thought would be most beneficial to his students, without the pressure from a publishing company to try to address larger markets. Because the textbook is published with an open license, any educator can take the textbook, use the chapters that they like best, and replace Dr. Jhangiani's examples and case studies with the material that is most relevant to their course. This flexibility is the strength of the open textbook model!
If you are interested in adopting an open textbook in your course, check out the offerings available at BC Campus, Open Stax College from Rice University, and the Open Textbook Library from the University of Minnesota.
If you have questions about adopting an open textbook or you have thoughts on how you might like to use them in your course, contact us at the LTO, michelle.schwartz@ryerson.ca, ext. 2094.
The Ryerson Library and Archives can also assist in finding open access educational resources to use in your teaching – please contact your Subject Librarian , call Ann Ludbrook at ext. 6910  aludbrook@ryerson.ca or have a look at the Ryerson Library Open Access Educational Resources Guide.