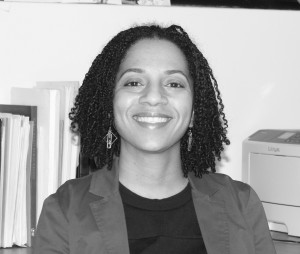 Congratulations to RULA's Mandissa Arlain, who was the recent recipient of a Viola Desmond Day Award!  The Viola Desmond Day Awards celebrate the work and achievements of strong Black women from Toronto Metropolitan University and the greater Toronto community.  Now in its 8th year, the awards help raise awareness of Viola Desmond's contributions to the civil rights movement in Canada, and the diverse and little-known stories of past and present women of African descent.
The awards are named after four notable women in Canadian Black history.  Mandissa has received the Ms. Chloe Cooley Ryerson Staff Member Award, and will receive this award at  the Viola Desmond Day Awards Ceremony on Monday, March 7 from 5-8 p.m. in POD250.  Recipients of this award have enriched Ryerson's and/or Toronto's diversity through initiatives promoting Black history, and have made a positive difference in areas such as equity, diversity, inclusion, human rights, social justice and community-building.
Mandissa has worked at RULA since 2003 in a number of different roles –  as a Library Technician, Circulation Services Supervisor, and more recently, as a Librarian, after having completed her Masters in Information Studies at the University of Toronto's iSchool. Mandissa was a member of the university's Anti-Racism Task Force, formed in 2010, and also volunteers for the 100 Accomplished Black Canadian Women (ABC) Project.  This is the second time a staff member from RULA has won a Viola Desmond Day Award – librarian Lucina Fraser was also an award recipient in 2010.