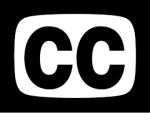 Toronto Metropolitan University is committed to ensuring its media collection is accessible to patrons who require captioning. Please view our Accessibility for Persons with Disabilities Policy.

We encourage faculty and staff to select media that is captioned for events and classroom learning.
Accommodating Students in your Classroom
If you have a student in your course who requires captioned media, please contact us as soon as possible. We will work with everyone involved (student, instructor and Academic Accommodation Support) to ensure access to course materials.
Please contact us as early as possible: Sonya Panangaden (sonya.panangaden@torontomu.ca)
Timelines
4 Day Turn Around
For course videos created or owned by the instructor, our current vendor takes 4 business days to produce a caption or transcription file.
*Please note that for copyright videos (e.g videos in the library collection), we can produce a verbatim transcript of the video in 4 days. However, in order for captions to be added to the video, the library must receive permission from the video's producer. This can take 1-3 weeks.
How to Speed up the Process
If you have a transcript of the speech in the video the process will be quicker. The library will send a copy of the video and the transcript to the vendor.
Find Captioned Videos in the Library's Collection:
You can search for videos through our website.
When Searching, you can use the words "Closed Captioned" in your search. For example: Social Work and "Closed Captioned"
Accessible features such as closed caption will be listed on the item record under Language (here's an example).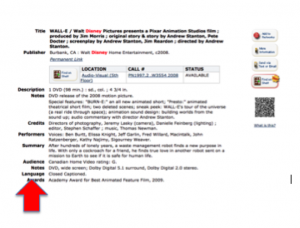 If you are unsure whether the DVD/video is captioned please contact Sonya Panangaden (sonya.panangaden@torontomu.ca).
We're happy to help you find an accessible video for your students or for your event. Please feel free to contact us.
Showing a Video in your Classroom (Remember to Book)
Faculty/staff must book the video for classroom viewing.