Although our preference is to publish works that are openly licensed we can also explore other options for publishing books by TMU authors.
FreshTurf+: A Cultural Atlas of the Great Lake Basin and a Studio Great Lakes Urbanism Workshop
Publication Date: Late November 2020
Edited by Elizabeth George and Scott Sørli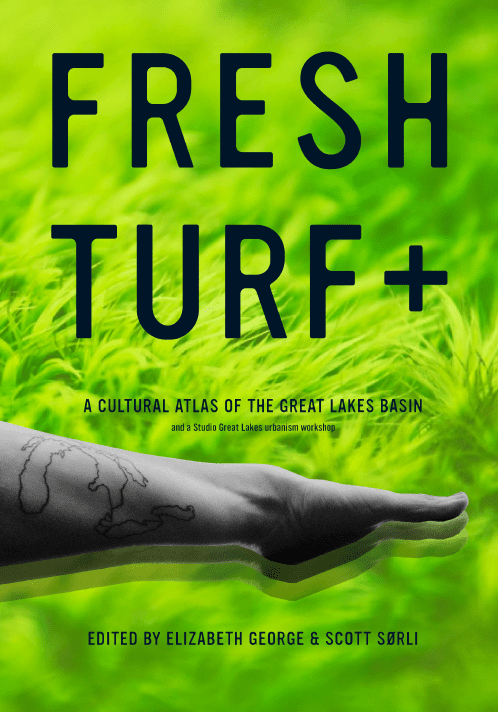 FRESHTURF+ is a Cultural Atlas of the Great Lakes Basin, based on a proposal by Studio Great Lakes for a Freshturf region, which challenges existing North American regional forms through a critical territorial assessment of Economy, Environment, Technology, Society, and Geopolitics. It is an initial step to a reconceptualization and reconstruction of the Great Lakes to strengthen an evolving and expanding identity for the region's urbanism and culture.
License Terms
This work is licensed under a Creative Commons Attribution NonCommercial ShareAlike 2.0 (CC BY-NC-SA 2.0) license unless otherwise noted. Work by Edward Burtynsky, James Corner, Elizabeth George, Perry Kulper, and Scott Sørli is excluded from this Creative Commons license. This work can be used for teaching purposes in non-profit educational institutions, without a fee as long as the work is cited.
Get a Copy of this Book
PDF copies are available from the TMU Library.
Detailing Architecture: Process and Reality: A Step by Step Guide
By Paul Floerke

The objective of this publication is to focus on bridging the gap between professional complex, non-didactically prepared technical requirements and simplified construction guides. It aims to unfold the detailing process in a step-by-step approach, making every step explicit and comprehensible. The publication will reference the outlined concept of two existing buildings – in this case, a single family energy efficient home in Germany, and a refurbishment project in Toronto – illuminating their contexts as well as clarifying their comprehensive building approaches. The manner in which students approach detailing today and how they perceive the process of physical construction when designing is a fundamental component of this investigation, which aims to find a method that appropriately systemizes the sequential steps of construction so that the architectural details can be critically reflected on and further inform future designs.
License Terms
Currently this book is under the copyright of Paul Floerke for a period of five years. After that time the book will be made available under a Creative Commons license.
About the Author
Dr. Paul Floerke is an associate professor in the Department of Architectural Science at Toronto Metropolitan University in Toronto.
Get a Copy of this Title
Print copies are available at the TMU Campus Store – $80.95
PDF copies are available purchase and download – $15.00