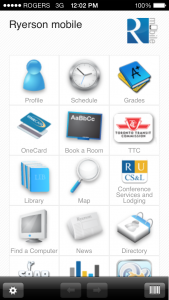 Ryerson Mobile, launched in the fall of 2008, is a suite of applications designed to help students access commonly used Ryerson resources while on the go.  Since inception, the app has been used over 1.5 million times by 28,000 unique users.   It was created as a collaboration between the Library, Computing and Communication Services, TRSM, and students in a variety of programmes at Ryerson.
Some of the apps available through Ryerson mobile include: RAMSS Schedule, Grades, OneCard Balance, Student Room Booking, TTC information, the Library, a campus map, Computer Availability and Soapbox.  Ryerson Mobile is constantly being enhanced and expanded with new content.
Although Ryerson mobile is designed primarily for use on mobile devices, the majority of the apps on Ryerson Mobile can also be viewed on a regular web browser.
The app can be downloaded from Google Play and the Apple App store: