The new and improved interface, Search Everything 2.0 is now live. Everything you've come to expect from Search Everything but in a new pretty package.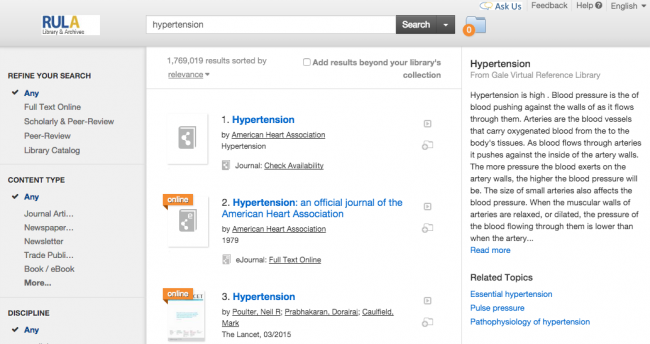 This new interface is a modern responsive mobile-friendly design. It features the clustering of Content types like images and news articles for better organization, and continuous scrolling, so you no longer have to click on 'next' to get more results.
The biggest difference you'll notice is the three-pane layout, with search results in the center, search refinement facet options on the left, and featured content or summary information on individual results when you hover over them
When searching, the 3rd pane will showcase the Summon Topic Explorer™ where appropriate. It will highlight relevant encyclopedia entries, guiding users through the research process including providing recommendations to related topics and the library's research guides.
There is now a discipline search facet to help you locate material in a particular discipline. This might be particularly helpful with tackling a particular aspect of an interdisciplinary topic or where keywords are used across different disciplines.
Check out the new Search Everything and let us know if you have any questions.