What do the library's journal collection and your favorite TV shows have in common? More than you might think…
Aside from the obvious (TV shows and journals are produced and distributed at semi-regular intervals and continue until they're cancelled, quality from title to title varies widely, as does the viewer/readership), there are many similarities in terms of how these cultural objects get packaged, sold, and consumed.
Have you ever wondered why the library sometimes offers several links to the same online journal? Consider how you get your TV shows in today's world of streaming services. Let's talk about journal aggregators, subscriptions, Netflix, and iTunes.
For $8 a month, Netflix subscribers have access to an ever-changing selection of TV shows and movies. Are all of these shows "good"? Would you pay for all of them separately? If they asked you, would you say you want all of these titles? You have no control over what's there. If you're like me, you keep subscribing to Netflix because it offers enough titles that you want. Often, Netflix doesn't have the latest season of the show you want to see most. Sometimes stuff you had on your watch list mysteriously disappears.
If you've met Netflix, you've met our journal aggregators. A couple of their names are EBSCO and ProQuest. With aggregator products, the library pays a subscription, but has no control over which publishers' journals are carried. Most popular and important publishers are often included in aggregator products with an "embargo" –  just like missing the latest season of a show on Netflix, you often won't find the most recently published articles in an aggregator. Because EBSCO and ProQuest are competitors in a relatively narrowly defined market, there tends to be a lot of overlap between them. The library has to continually review the value we derive from them and decide whether the unique content provided is worth the money, especially given that subscription rates raise each and every year.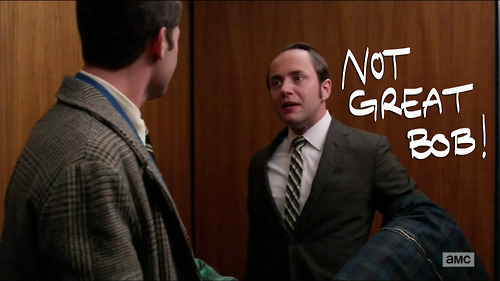 So what do you do about those shows you can't wait to watch? This librarian is addicted to Mad Men. I just can't wait for Netflix to get the current season, so I buy the season passes on iTunes. At ~$30 for a season, it's a premium subscription compared with Netflix, but I know I've bought that show specifically, and will have immediate access to the episodes as soon as they're released. I also know that I continue to have access to all of the episodes that are part of that season. They're not going anywhere. I've bought them. I can bug Apple to restore them if they disappear from my account. This is exactly like our individual journal subscriptions. We pay a subscription agent who gives money directly to the journal publisher, and we have access to that title for as long as we continue to subscribe. Even after our subscription ends, we are usually also entitled to keep access to the years subscribed. This is called "perpetual access" and is like those purchased shows you have in your iTunes account. It's definitely the more expensive route, but it's also much more reliable.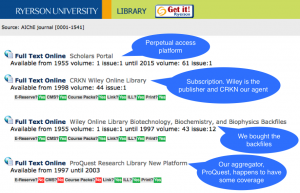 [click image to enlarge]