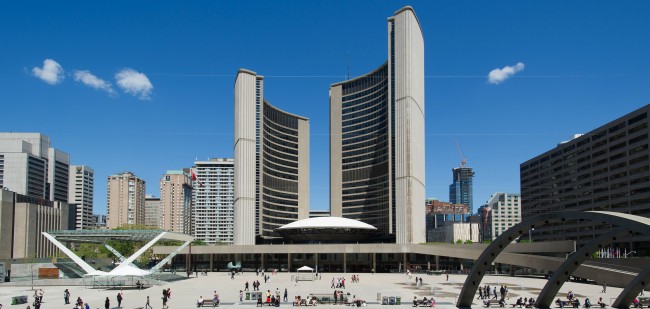 Here at the Library we're not just interested in helping you be a better student – we also want you to become a better citizen. Municipal politics have a huge impact on the university and your life as a Ryerson student!
Here's a short guide to help you get out and vote on Monday, October 27.
1. Are You Eligible to Vote?
In order to vote, you must be:
A Canadian citizen, and

18 years of age or older on October 27, and

A resident of the city of Toronto*, or

A non-resident of the City of Toronto, but you or your spouse own or rent property in the City, and

Not prohibited from voting under any law.
* Note that this includes students who live in Toronto for part of the year to go to school (both in residence and off-campus). Students who also live elsewhere (i.e. their hometown) are also eligible to vote there – so if you're a Ryerson student who lives near campus during the school year but at home during the summer, you can vote in two municipalities.
2. Where to Vote
Enter your street number and name (i.e. 1 Dundas) on the City of Toronto's My Vote website – this will tell you where to find your polling station.
3. What to Bring
You will need identification that includes your name and your Toronto address.
If you received a voter's card in the mail, take that and an acceptable piece of ID to your polling station.

If you didn't receive a voter's card in the mail, don't worry – you can be added to the voter's list when you go to vote by presenting identification to prove your name and address. Consult the list of acceptable identification here.

If your driver's license, health card, or photo ID card shows your name and Toronto address, you're good to go.

Otherwise, bring along your rental agreement, proof that you live in residence, or one of the many other pieces of acceptable ID on the list.
4. Learn More About the Candidates
You probably already know quite a bit about the mayoral candidates, but you will also vote for your local councillor and school board trustee. You can find out who's running in your ward by entering your address into My Vote. Here are a few tips for finding out more about the candidates:
Mayoral candidates:

FInd their platforms on their official websites.

Check out your preferred Toronto news site – a quick search should turn up a ton of information. Consider looking at some news sources that you normally wouldn't consult to see how the candidates are represented across a variety of sources.

Council candidates:

Enter your postal code into the Position Primer to see where your council candidates stand on a wide range of issues (only includes councillors who responded to the call for participation).

Find out if they have a website by licking on their name in My Vote.

School board trustee candidates

Check to see if the candidate has a website by clicking on their name in My Vote.
5. Go and Vote!
On Monday, October 27, from 10am-8pm, head to your local polling station to cast your ballot!