Researching at home, or somewhere else on campus?  Chat with library staff and get research help when you need it!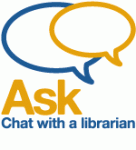 The Library provides a live chat reference service, Ask a Librarian, which opens today.   Ask a Librarian connects students, faculty and researchers from participating libraries with real-time research assistance through chat.
The hours for the Fall and Winter terms are:
Monday to Thursday 10am – 10pm
Friday 10am – 5pm
Saturday and Sunday 11am – 5pm
Start chatting with us today!
To learn more or to start a chat session, please visit the Library website and click on Ask.