The Library has reconfigured some of its service points on the main floor during the Fall term, based on statistical data gathered over a number of years, feedback from our users and a need to better utilize the skills of our staff.  This is a pilot project, which will go through an evaluation at the end of term.
The iDesk will now greet users as they enter the Library, and provides general  information and orientation to the Library.  Staff at this desk will also provide basic known-item searches and, when appropriate, redirect users to other service points as needed. The  iDesk will be staffed from:
9a.m.-7p.m., Monday to Thursday
9a.m.-5p.m. on Friday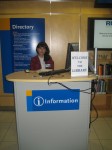 Research Help and Technology Assistance are now provided from a shared desk in the Learning Commons.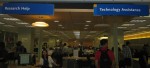 Research Help is available from:
 11a.m.-7p.m., Monday to Thursday
 11a.m.-5p.m. on Friday
 12p.m.-5p.m. on Saturday and Sunday.
The Library's chat reference service, Ask Us, will begin on September 10, and will provide research support when the desk is closed.  The Library will also be providing a Book an Appointment service later in the Fall, which will allow students to book one-to-one appointments with library staff to discuss their research queries.
Technology Assistance is available most hours the Library is open.  This includes help with passwords, printing issues, and wireless support.  The printers have also been relocated next to Technology Assistance.
We hope these changes will provide a better user experience for our patrons – but we want to hear from you!  Please give us your feedback throughout the term, and look for upcoming opportunities during the evaluation phase to comment on your own experiences through focus groups.